Volcan Emergency hotline - Call Rodny
Your loved one may be lying on the floor having a heart attack, or you could return home and see armed gunmen inside your home - what do you do? In the USA or Canada you would of course call 911 - but in Panama? Sadly our warm, friendly, palm tree paradise is lagging a bit behind the times when it comes to emergencies. If you live in Boquete, Volcan or parts of Cocle; forget Ghostbusters - call Rodny.
Rodny Moreno runs a 24 hour emergency hotline from his home in Chiriquí. He is fluent in both Spanish and English and he will do his level best to make sure that fire, police or ambulance come to your aid. He initially worked with the ALTO CRIMEN group in Boquete, which has since expanded to Volcán and the Coclé areas.
Volcan - where the streets have no name
As Rodny explained to me there are really two problems that expats encounter when asking for emergency help. First, for most of us our Spanish is only good enough for ordering a hamburger and a cerveza. Secondly, how on earth do we give directions to a house without a number on a street without a name?
Rodny Moreno was born 35 years ago in the city of David. Tragically, he was born with a condition called ACM or Arthrogryposis Multiplex Congenita. Rodney was born a quadriplegic. Today, he operates his lifesaving service from a wheelchair. His hands and legs clearly offer little or no help in his work, fortunately however Rodney's brain, spirit and multilingual talents more than compensate for the lack in his other parts.
IF you live in Panama and would like to know more about this service
Please see the link to the website at the bottom of this page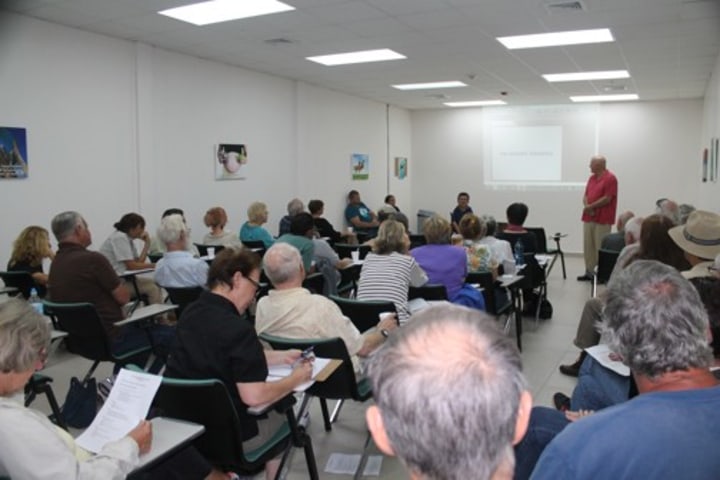 Above; A meeting in the new Volcan hospital where concerned residents learn about home security and are introduced to the remarkable Rodny Moreno
At age nine, Rodny was taken to Louisiana courtesy of the Shriner's hospital. The two years he spent in the US were not wasted as Rodny started on his journey learning English. On his return to Panama he worked on those newly learned skills and today his English is fluent. Today he can calmly and reassuringly talk to a heart attack victim and then instantly switch to give directions in Spanish to the approaching police or ambulance drivers.
I have watched 911 operators at work in Canada. They require almost superhuman qualities of patience, and understanding, particularly as they may have to deal with matters of life and death. I asked Rodny had he received any training to help him deal with high pressure calls. He said no, but his five years on-the-job-training had enabled him to learn the necessary skills.
One of his early calls was a simple case of a driver entering Panama and then having a flat tire. The driver discovered that someone had stolen his spare and there he was alone, helpless and vulnerable in a strange country. Rodny stayed on the phone for six hours with the lone driver until the problem was solved. Later, the driver came to Alto Crimen to thank Rodny and to make a generous donation.
The Volcan Hot Line is operated and run by community minded volunteers who work closely with local law enforcement.
Today Rodny handles about three calls per day. It should be said that he couldn't perform his work without help from his ever-present sister Connie and from other members of his family.
I asked Rodny about the past five years and how a man with his disabilities had managed to operate so wonderfully in this all important service. He smiled and said that this had turned his life around 180 degrees. I sensed that he felt that before he was totally dependent on others for his life and well being and now in an almost strange twist of fate, hundreds are now relying on him for the health and security.
Rodny Moreno- so much more than an emergency call operator. A smiling young man in a wheelchair. A man with crippled legs and curled and twisted hands - despite these incredible disabilities Rodny Moreno somehow managed to climb a mountain.
To become a member of the Volcan Hotline please go to the website at: rodnydirect.com