Volcan Airport History & Mystery
The community of Volcàn in the highlands of Chiriquí has always had a runway for small planes, if we go back to the 1940s there was already a field in the centre of the town that went across the main street. This landing field was used by the army of the southern command of the United States, during the second world war, they used many fields throughout the country, and it was also used by foreign citizens working in the former Canal zone and who had properties in the area.
With the passage of the years, and the population growth, They had to find an alternative, and move the landing strip to the outskirts of the town.
The Janson family, owners of the Hacienda Las Lagunas, had begun to use some pastures of their property for landing planes. The owner of the Hotel Bambito began to promote the construction of an airport, they were thinking about bringing charter flights with tourists and there was always the idea and the desire to take the local vegetable production to Panamà by plane.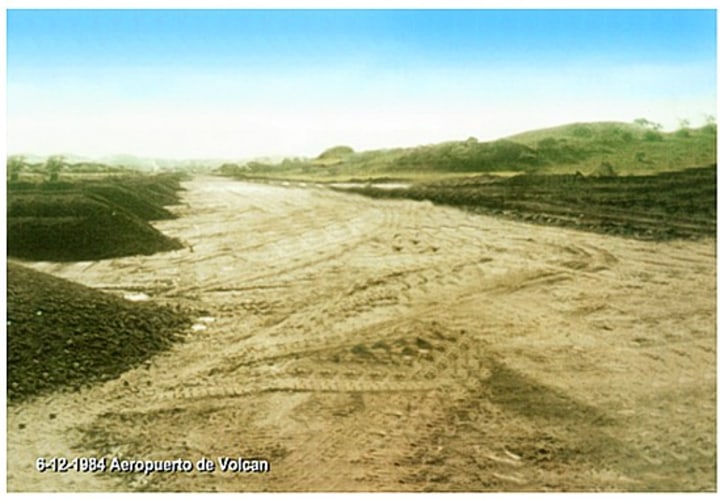 In 1984 on land "acquired" by the Defence Forces of General Manuel Antonio Noriega, the Civic Action of the armed forces built a runway of 2,000 meters (6562 ft) long by 20 meters (66 feet) wide at an elevation of 1524 meters (5,000 feet) above sea level.
This field was of restricted use in those years, used for clandestine flights of origin and destination unknown, and according to residents of the area, night flights of large aircraft were frequent because they were easily accommodated on this long and wide runway.
After the American invasion it was returned to the Administration and ownership of Panama´s Civil Aviation. Maintenance has been very careless and deterioration is notable.
It is only used by the occasional charter flight and some people who have property in the area, and 2 or 3 times a year for racing cars and motorcycles that only accelerate its marked deterioration.
Considered amongst the 4 largest fields across the country today when the Government is looking at remodelling and - or construction of new airports in the interior of the country, we ask the relevant authorities to take a look at this facility which if not given proper maintenance and repair it will become another loss for the National Government.
By first and only, decree issued by the National Directorate of Civil Aviation, and published in the Official Gazette this airport is named after Captain Alvaro Berroa, in memoriam, neighbour of the community and pilot who died in plane crash on Isla Contadora.