Panama Plantation Style House. Spacious grounds Ocean View.
In the Panamanian fishing town of Puerto Armuelles, high on a hill overlooking the bay of Charco Azul, sits this impressive plantation -style house. The area is known as Las Palmas (The Palms)
The home comes with two (2) titled properties. They measure 1,947 and 5,726 square meters respectively. This translates into 1.89606 acres.
This is a "Turn-Key" property. Which means it comes with virtually everything you need, from a John Deere ride-on-mower and a Weber gas barbecue, pots, pans dishes etc. Basically, bring your suitcase and a tooth brush and move right in.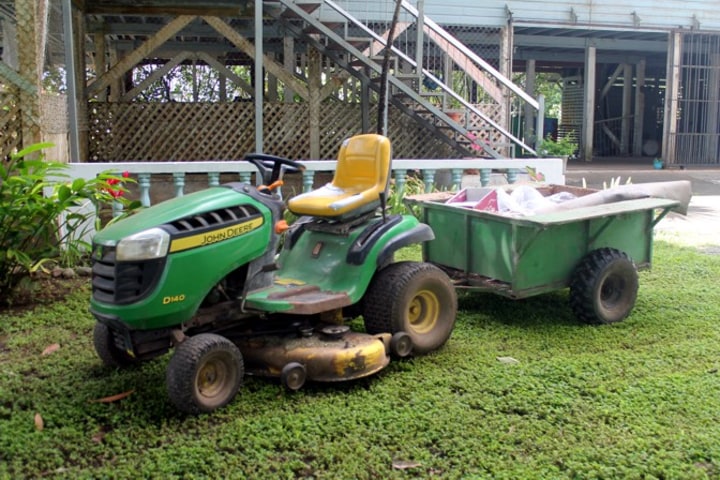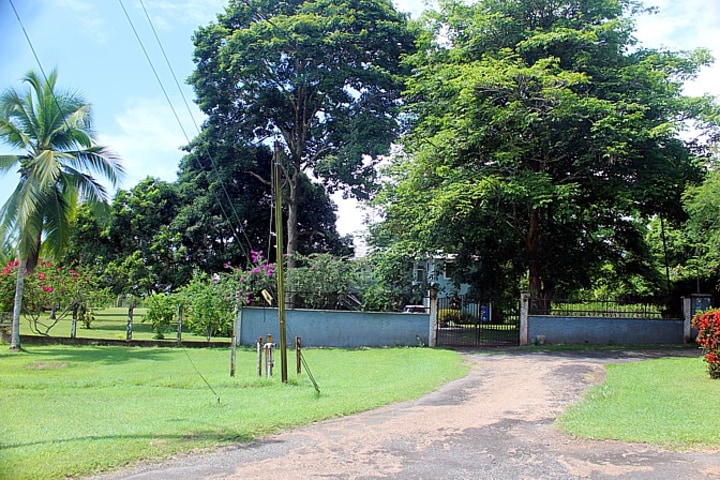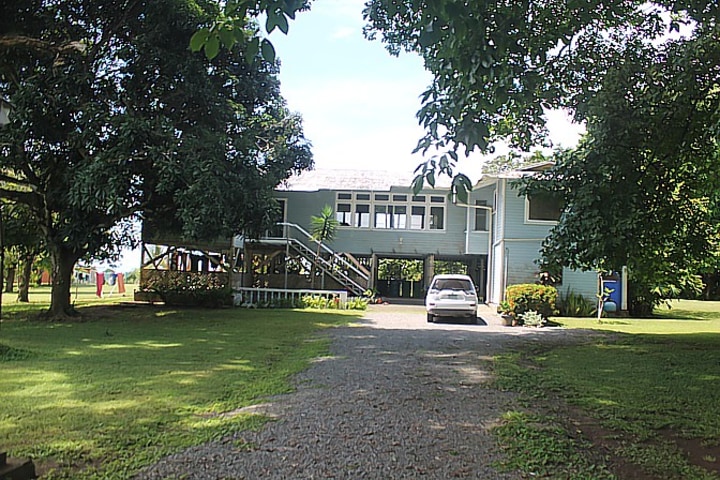 As befits a former executive home, there is an impressive entrance and driveway.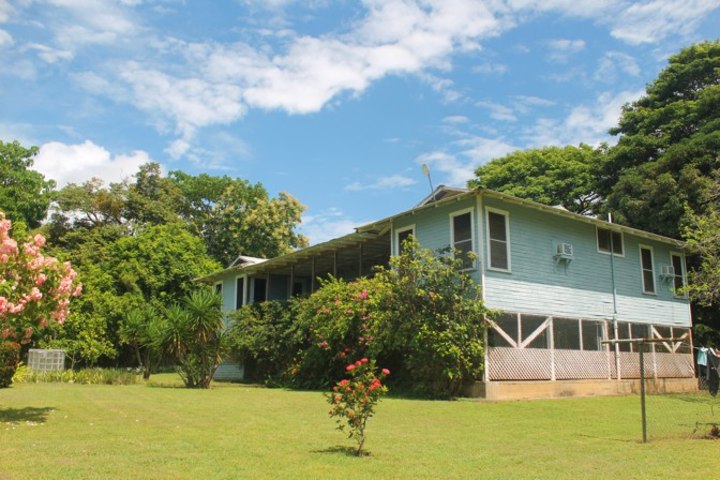 The houses were designed with the living accommodation on the second floor. There is a good scientific reason for this; cooling sea breezes pass under the house and through its upstairs windows thereby making the home naturally cooler and comfortable.
The ground floor mirrors the upstairs so there are oodles of storage space. On the ground floor is a newly installed shower and toilet.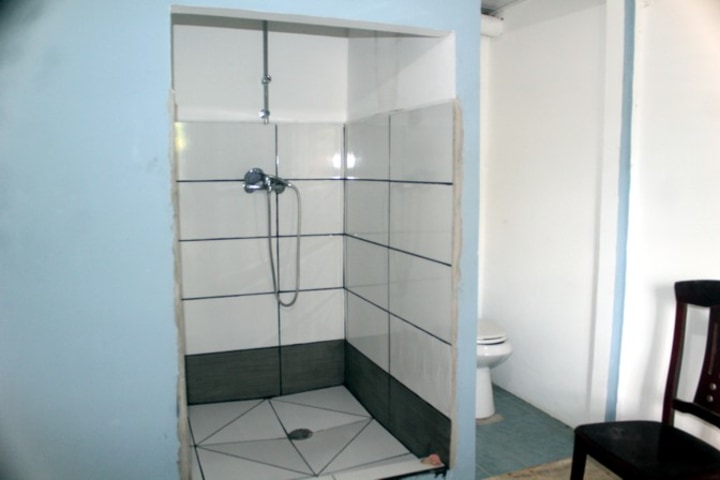 Also on the ground floor are several large water tanks.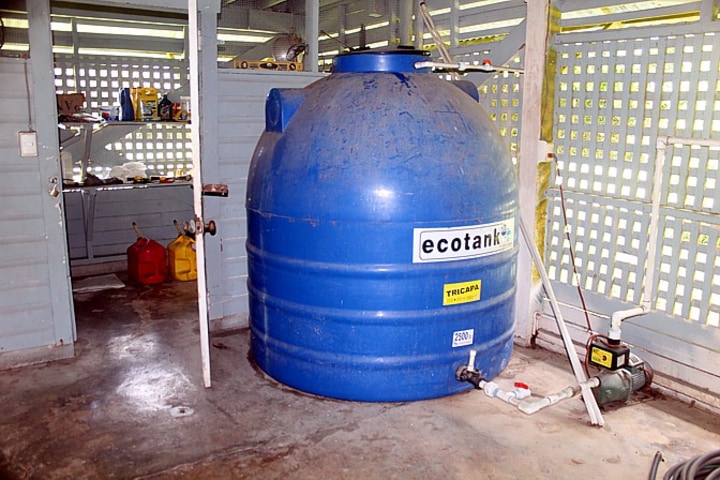 Pictured above: a 2500 litre water tank, below 2 additional water tanks and a three stage filtration system. In this home you will never be without water.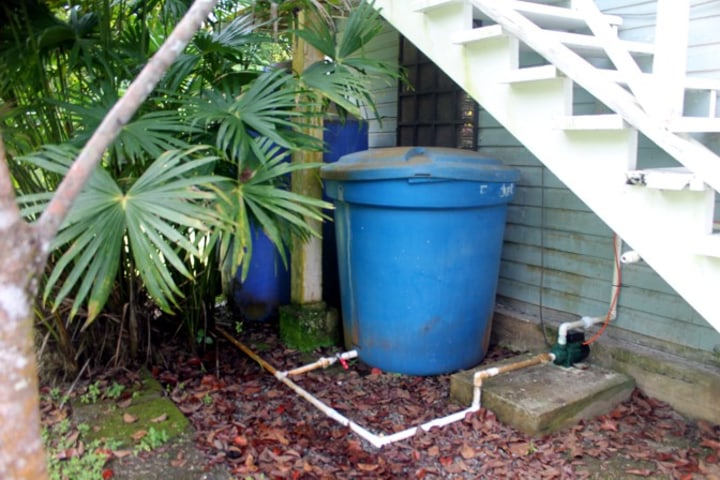 Entrance to the upper floors is by two separate staircases. The doors at the top have special FUERTEC security screens installed.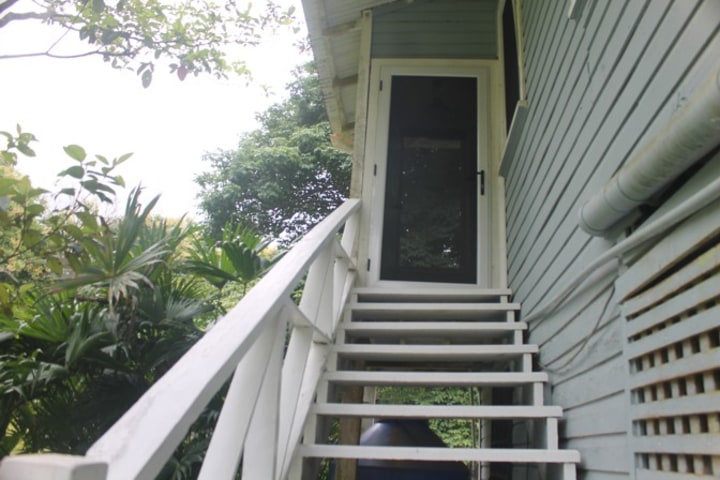 Fuertec Screens are built using high tensile strength, stainless steel Fibers. uniquely woven into a secure mesh. They cannot be cut with a knife and the makers claim they will resist up to a category 4 hurricane.
The FUERTEC screens are used throughout the home in both doors and windows. They are almost invisible but allow the cooling sea breezes to easily pass through.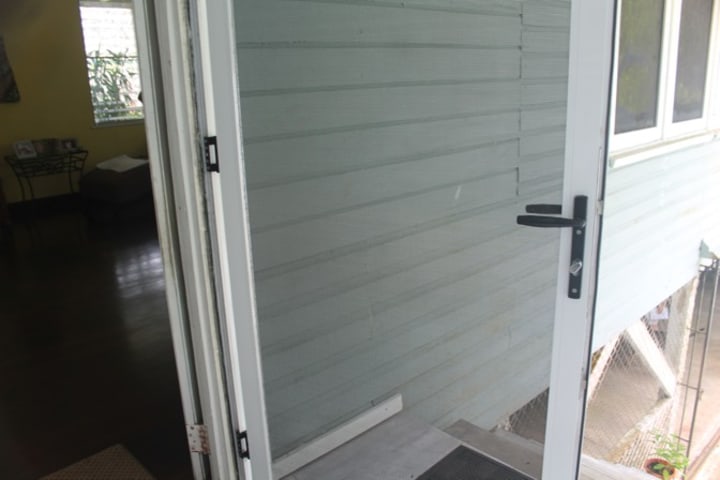 The main front staircase has this security screen in place. This means that the main inner door can be left open to allow for breeze and yet still maintain your security.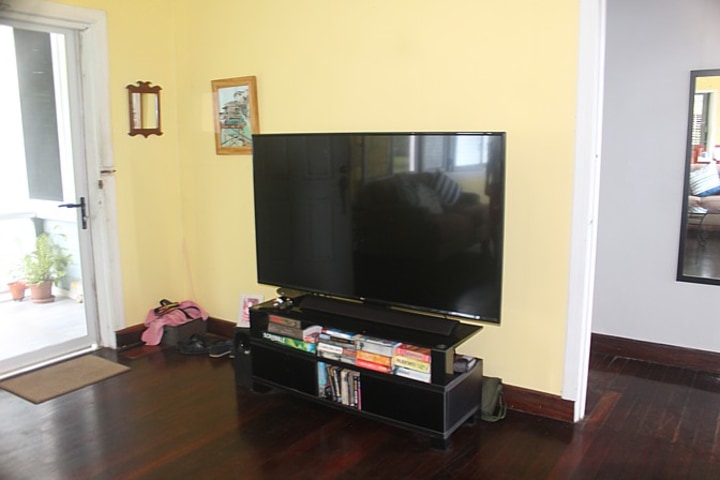 Included in this home is this large 65 inch TV.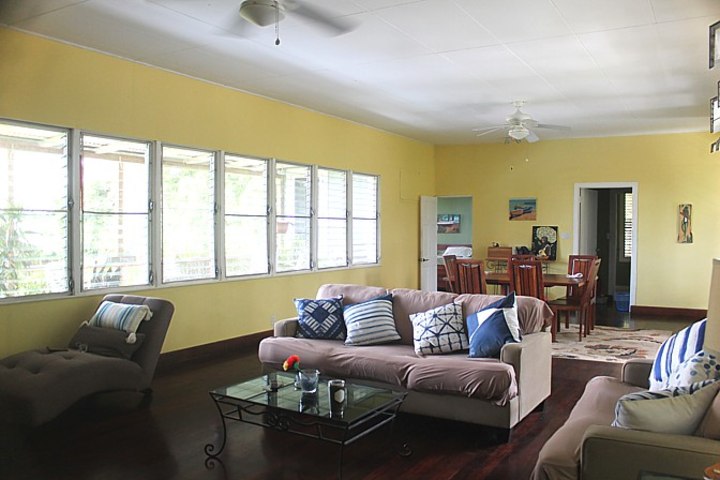 On entering the living room from the outside staircase you notice that the room is long and has dual aspect windows along much of its length. Again, the idea is that the ever-present sea breezes will pass easily into and through the home.
You will also notice the dark coloured hard wood floors. In the tropics the best non-chemical way of stopping little critters from eating your home is by employing tropical hardwoods such as Teak or Mahogany.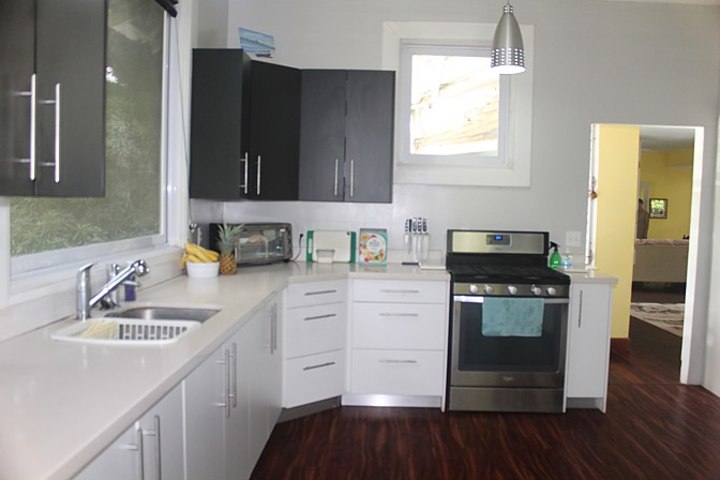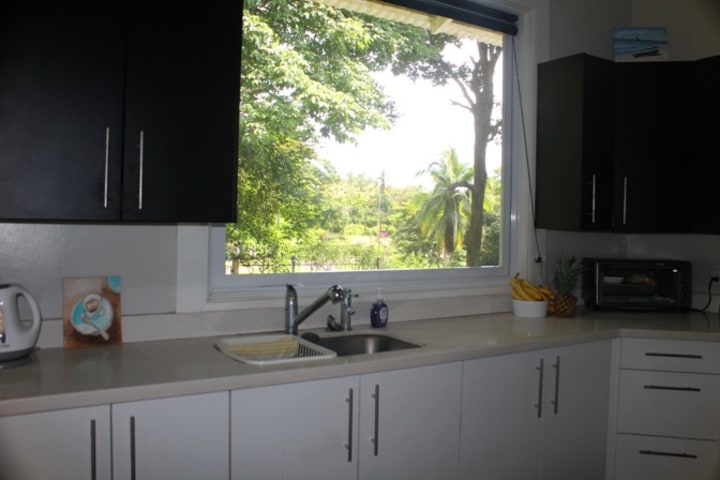 Passing through the living room you enter the kitchen. Which again has many windows making it light and airy. The home comes with the usual array of appliances including fridge, large stove, toaster oven etc.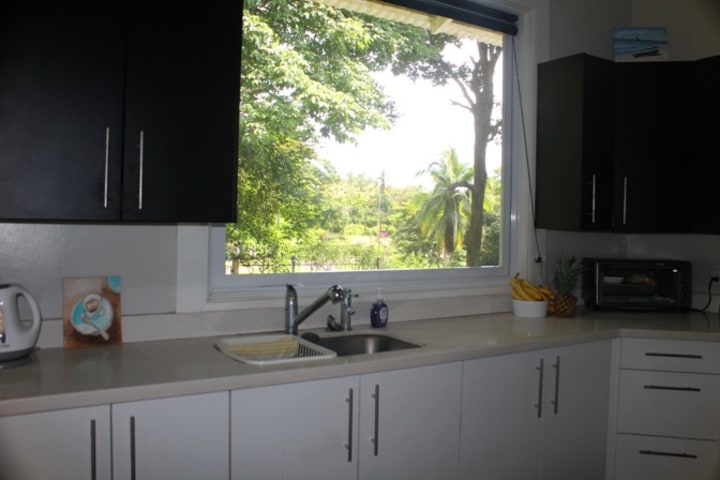 The kitchen has an additional feature. This large view window looks out onto the front garden and makes an absolute ideal place to wash the dishes. This "window" is in fact another Fuertec security screen. There are two more Fuertec screens used in the kitchen making this area light and well ventilated.
The home comes with the obligatory washer and dryer. Drying clothes in the tropics is never really difficult as mother nature supplies you with warm and fresh outdoor air that leaves clothes fluffy and chemical free.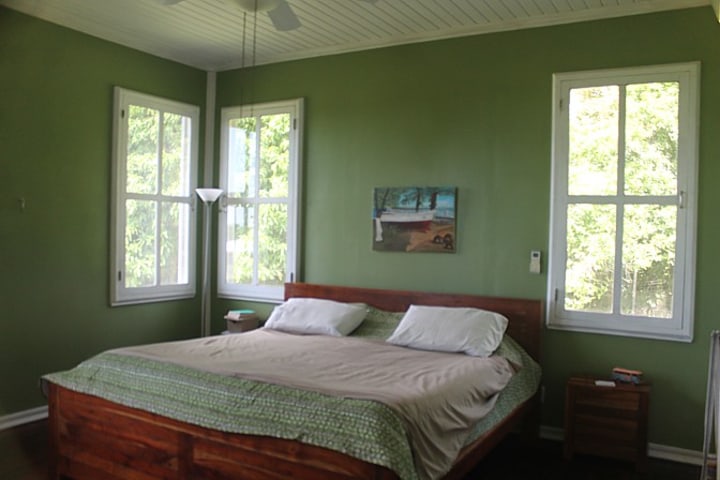 The master bedroom is triple aspect. With a large ensuite bathroom.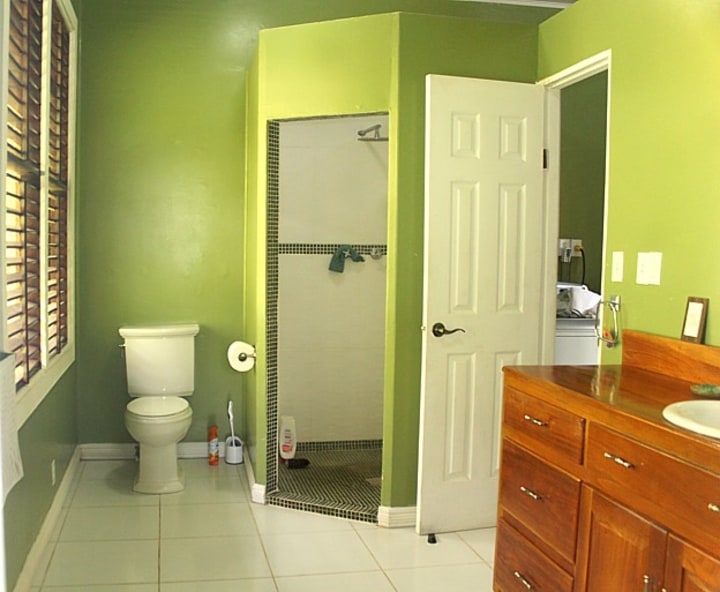 If you buy this home. you are in for a treat. Imagine waking in the morning and without even getting out of bed, you can gaze out the windows, across your beautifully manicured lawn down to the ocean. Then, with coffee cup safely in hand a few steps onto the long plantation style verandah.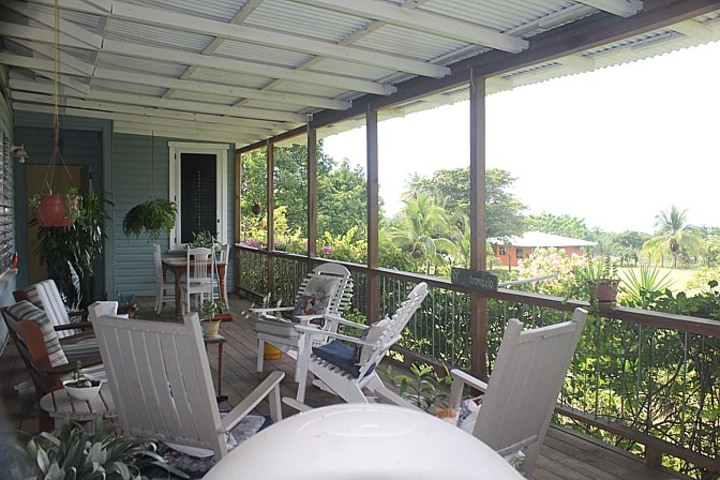 Here you can sit feeling the cool morning breeze. Then glancing to your right you can enjoy one of the greatest amenities this wonderful house has to offer … THE VIEW!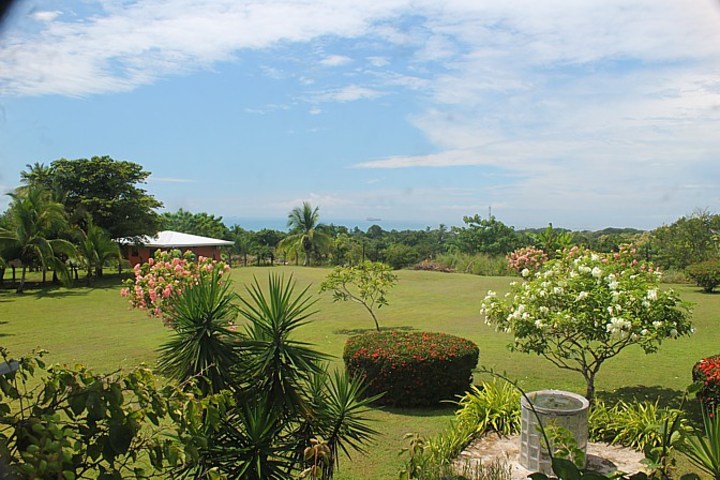 This view to the South East over the bay of Charco Azul will delight you every morning with your coffee and possibly every evening with your glass of wine.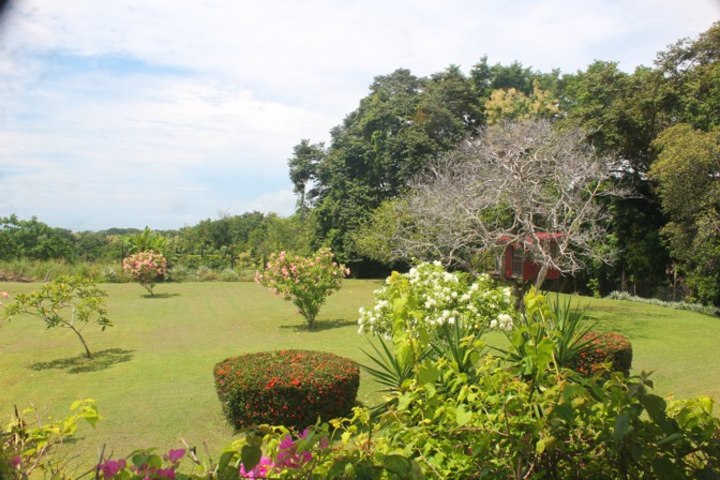 And when guests arrive you can supply them with their favourite barbecue meals. No need to fuss with charcoal as the home comes with this GAS powered Weber grill.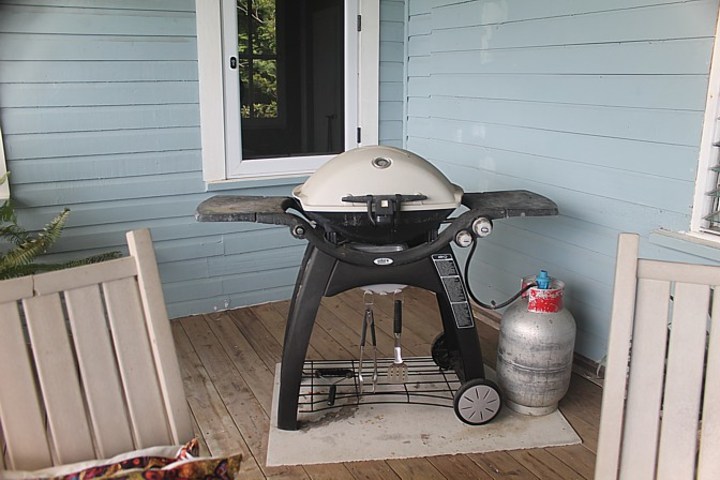 When people find you are living here you can be almost certain that you will have guests. No worry you will have two wonderful guest rooms waiting for them.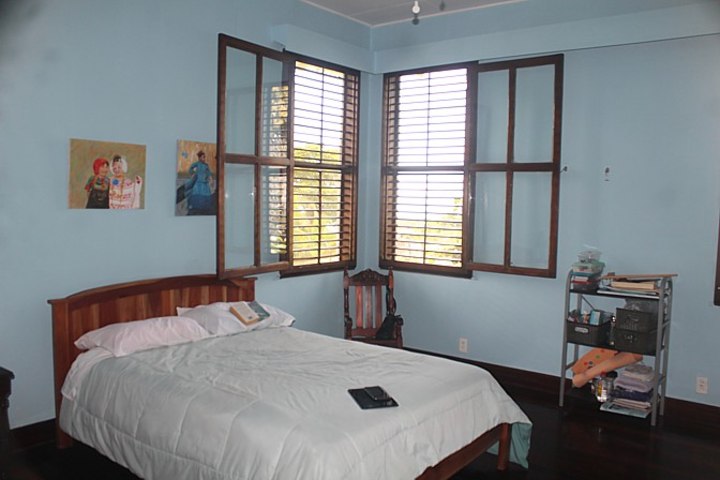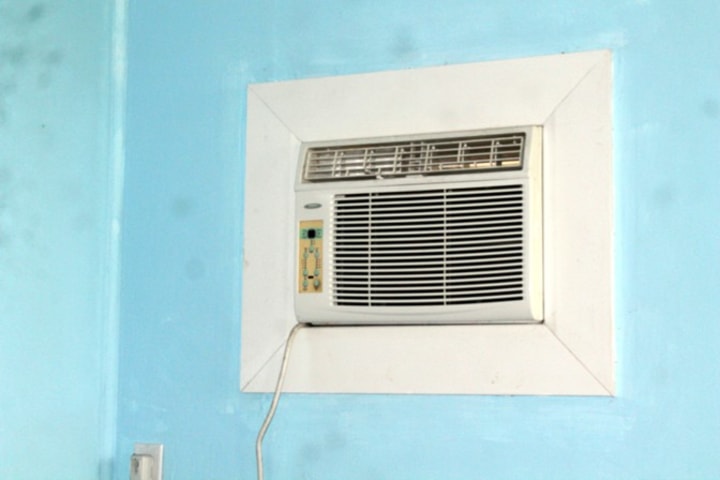 There are air conditioner units in each of the three bedrooms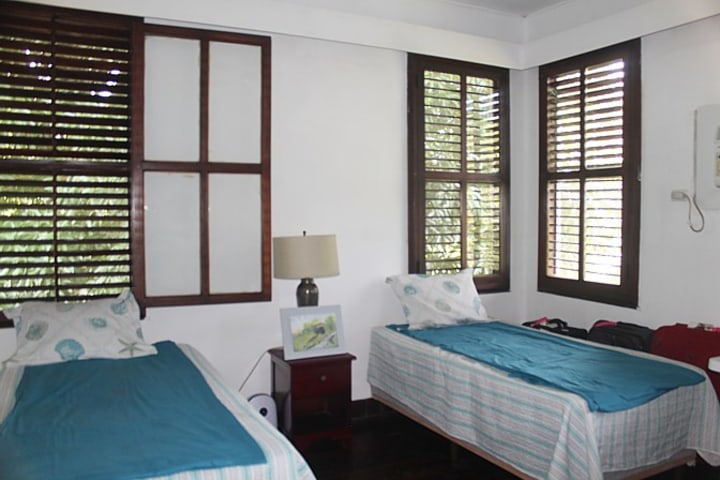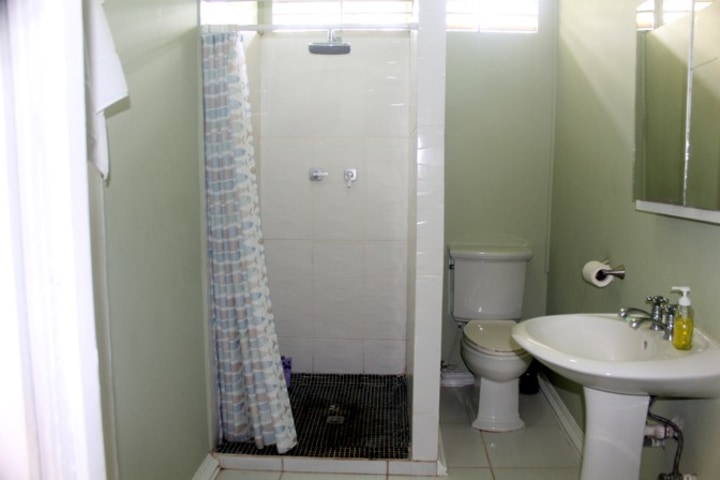 Living in Puerto Armuelles is not to be living without all the comforts and conveniences of Life. We have six decent sized Supermarkets and a seventh coming on stream this fall. There is a vibrant, although small expat community that does surfing, has a book club and performs live music at local bars. The Panamanian are a wonderful friendly people. Treat them with respect and they will welcome you into their homes and hearts.
The home and the two sections of land are titled.
$ 350,000
Contact:
Email: jennyvollmer47@gmail.com