Panama, Boquete, Perfect
Retirement Condo.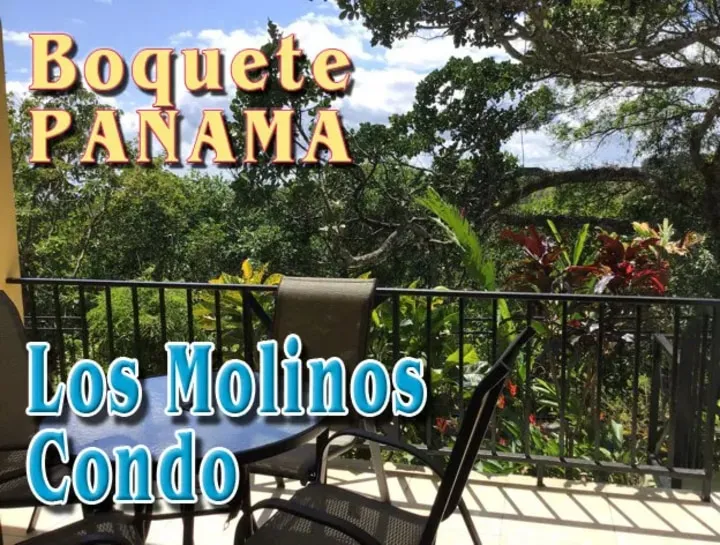 HACIENDA Los Molinos is one of Alto Boquete's longest established gated community. Conveniently located 20 minutes from Boquete town and just a 30 minute drive (on a four lane highway) to David City.
Offered for sale at: $199,000 USD. (Negotiable)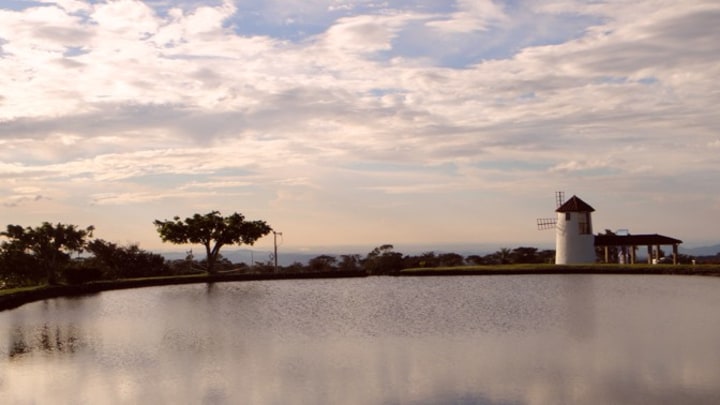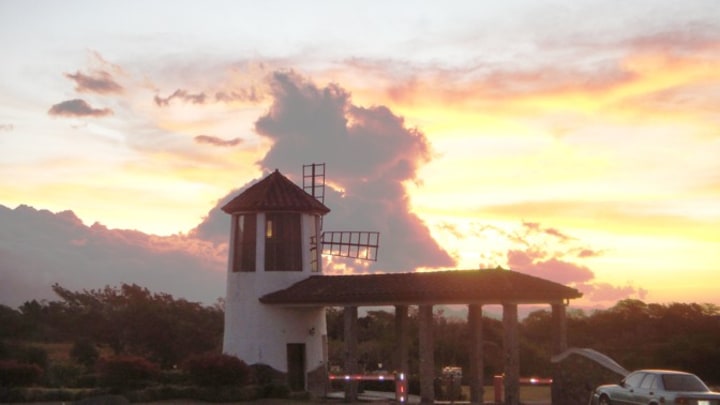 These two stunning pictures show the "Windmill' which is the name "Los Molinos" in Spanish. With the land sloping down to the Pacific Ocean and behind you the truly magnificent 11,400 foot high Baru Volcano, you can be assured that this condo is in a beautiful location.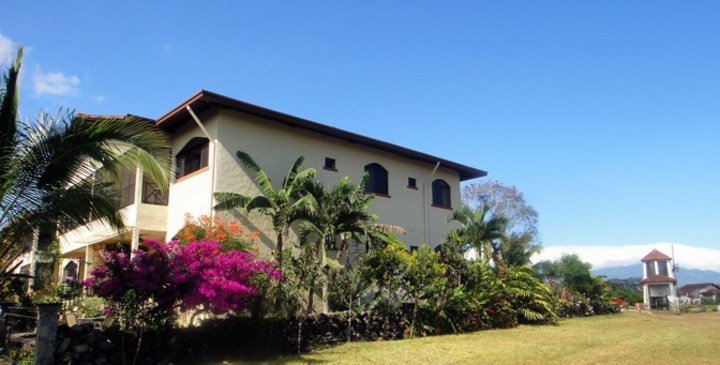 This fully furnished, ground-floor condo is now available to buy.
Why do we say "perfect." As we get older one thing most of do not want anymore are stairs. This is a ground floor condo. yes, there are a few stairs leading from your terrace to the garden, but you will not have to haul your groceries up these, as your main entrance is on a level floor.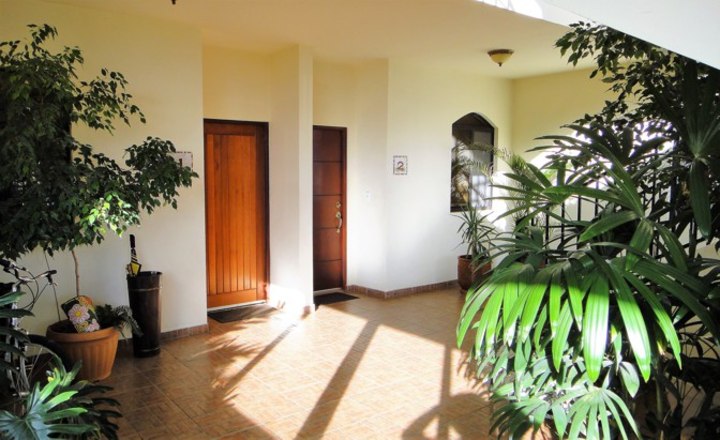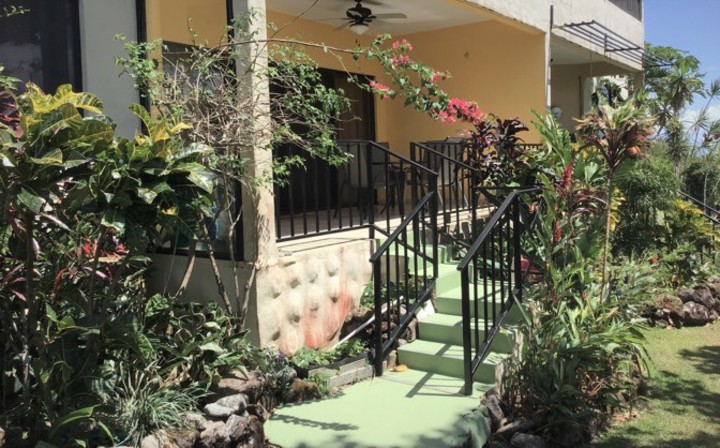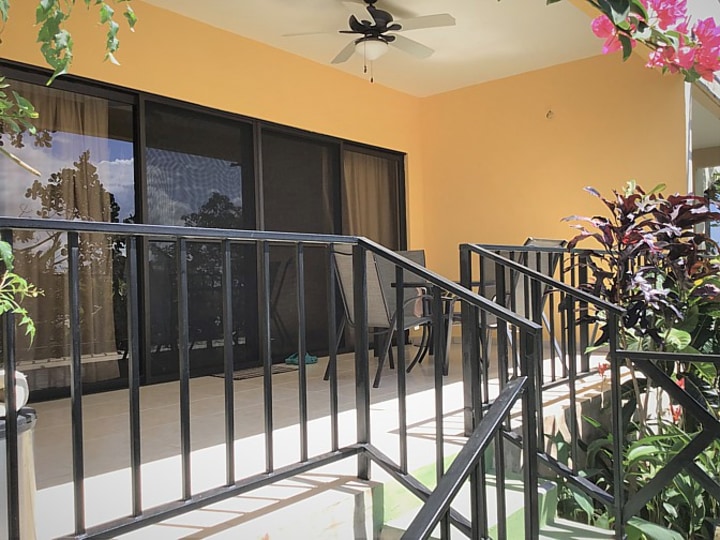 If you have never visited Panama before you most probably have some misconceptions about its climate. Boquete is located on the southern slopes of Panama's highest peak: The 11,400 foot Baru Volcano. This affords the area a very special climatic condition, known locally as "Eternal Spring."
This climate attracted the rich and famous from aviator Charles Lindbergh to Hollywood greats, William Holden and John Wayne.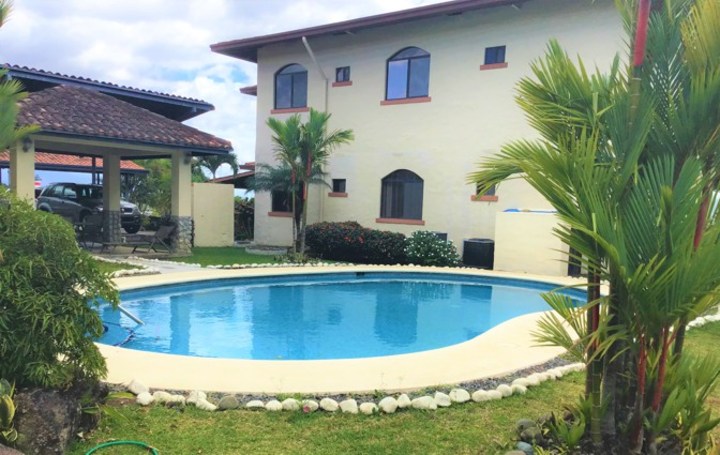 You might not have such important visitors but if they did come you are well equiped to entertain them in your modern , open-plan kitchen.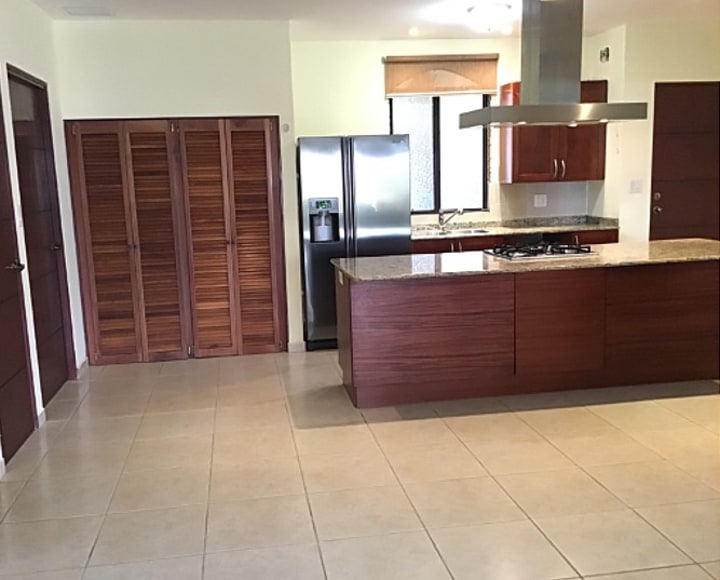 The central island is perfect for guest to sit and chat over a glass of wine as you prepare your gourmet dishes.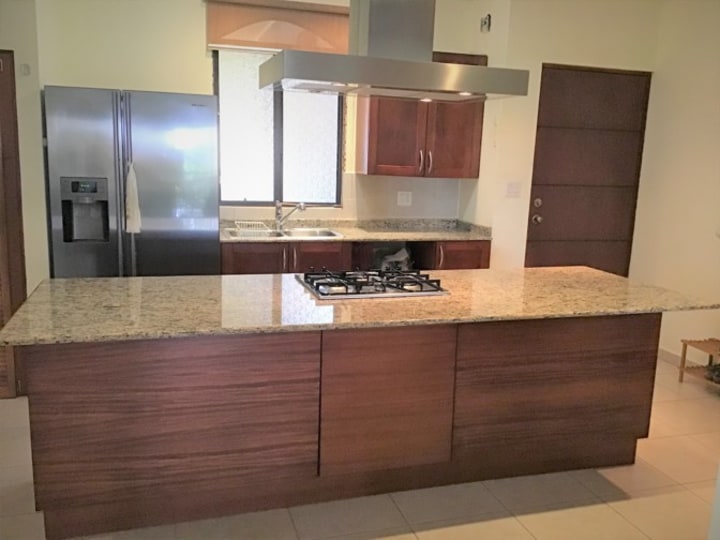 The nearby dining area can set up to TEN persons.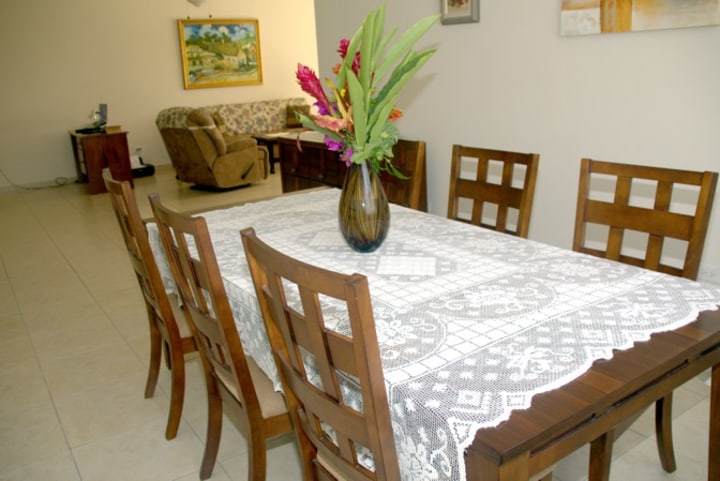 Then for further entertainment you can all relax in your spacious tiled living room. Many people tell me the views looking south to the lights of David city with its spectacular sunsets will take your breathe away.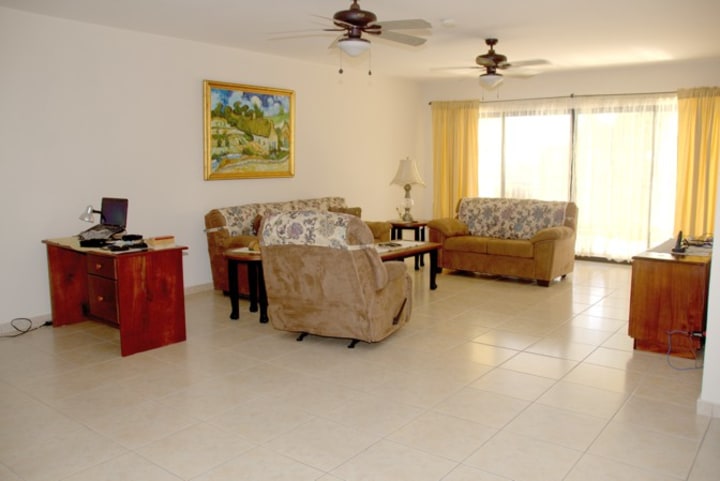 When your days is over why not relax in the outside pool or take a warm shower before turning in for the night.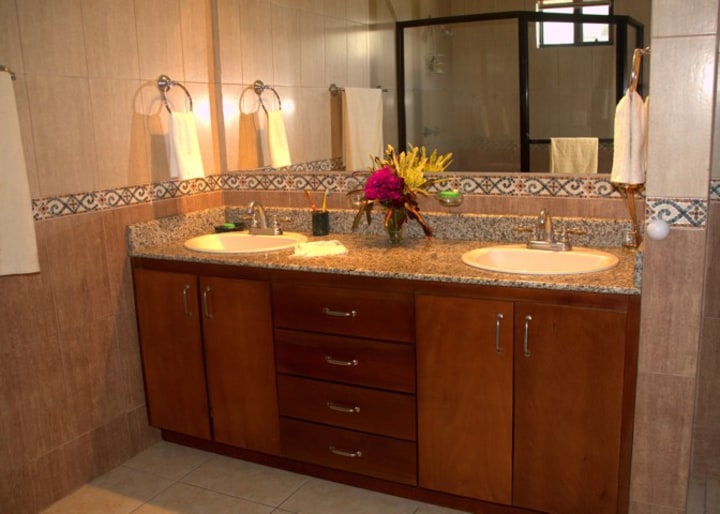 For a great night's sleep nothing beats the spaciousness of a King Sized bed.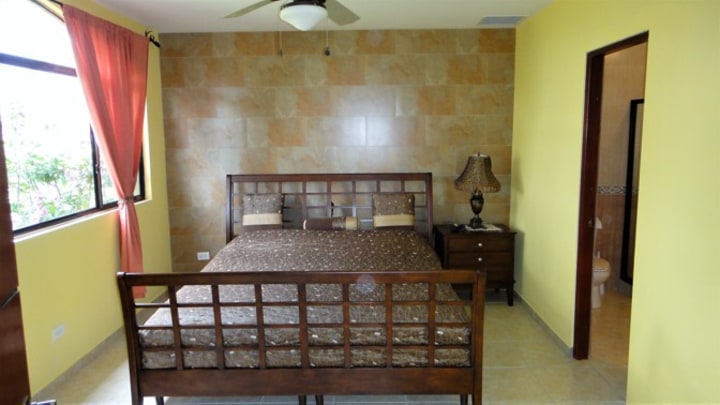 Your guests will be quite happy I am sure with their Queen sized bed. The condo has central air-conditioning, so everyone should sleep like logs.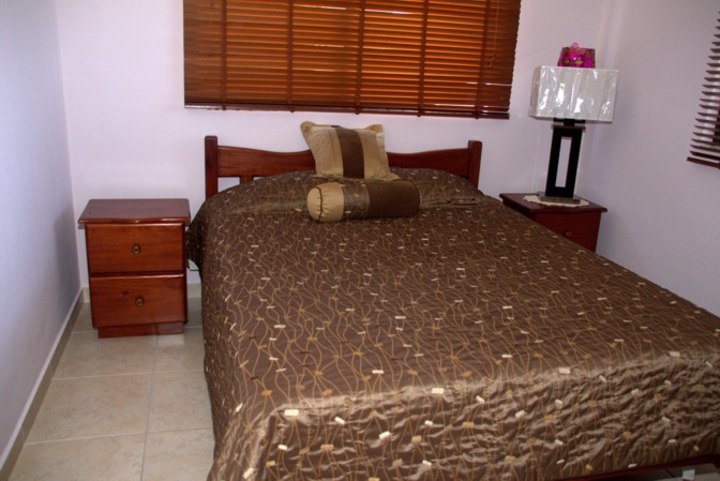 Your guests have their own ensuite bathroom and shower.
Again the perfect part of the Los Molinos living is that it has its own restaurant and bar. So if you don't feel like cooking or driving to a restaurant … just a short invigorating walk away, a sumptuous meal awaits you.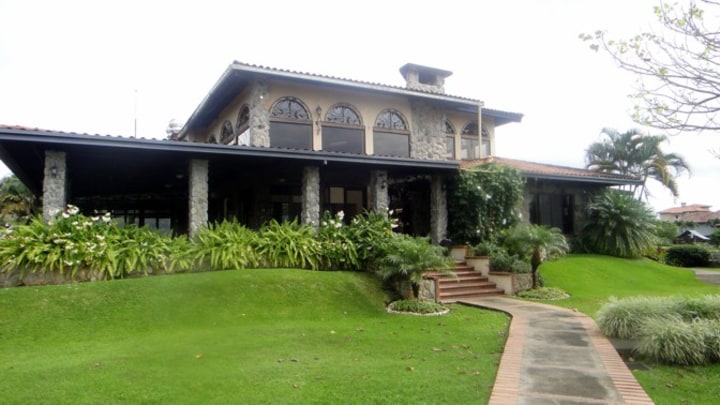 Returning home, why not spend a few moments on your terrace and gaze out over the canyon. The jungle around Los Molinos is home to myriads of brightly coloured birds and troops of the adorable howler monkeys.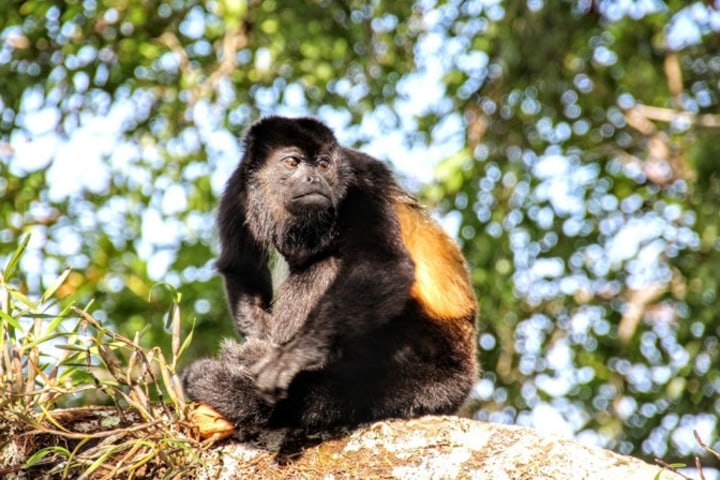 The wildlife here is wonderful, almost like watching a BBC documentary right from your balcony.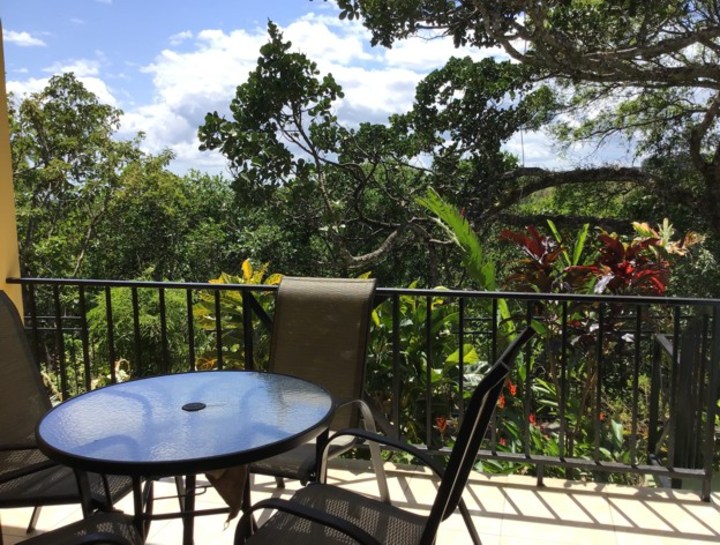 THE DETAILS:
Single floor, 2 bed 2 bath.
FURNISHED, fully equipped kitchen, all linens provided.
SPACIOUS, open living plan extending onto a COVERED TERRACE with VIEWS of the canyon & its wildlife, Pacific ocean and beautiful sunsets. Adjacent dining area seats 10.
Master Bedroom – KING size bed, walk-in robe, ensuite for 2.
Second Bedroom - QUEEN size bed, built-in wardrobe, ensuite doubles as guest bath.
Washer & dryer, refrigerator, LCD flat TV, comfortable sofa.
Central air conditioning, ceiling fans in all rooms.
Uncoverd parking space for car.
Other community facilities available on site at Los Molinos:
Pool, restaurant, bar area and hotel, fitness room, day spa, tennis court.
$ 199,000
Contact:
Name: Yohan
Email: ionpintea@hotmail.com
Phone: WhatsApp +507-6229-8009 Magicjack +1-450-233-2731