Serenity and Security in a Mountain Garden Home
A spacious "Santa Fe" style home and a well appointed casita or guest cottage, in a beautiful mountain setting are offered for sale at
$295,000 USD.
Comment from yourpanama.com staff photographer:
"After 14 years of real estate experience in the Volcan area: This is the most beautifully designed home and garden that we have seen."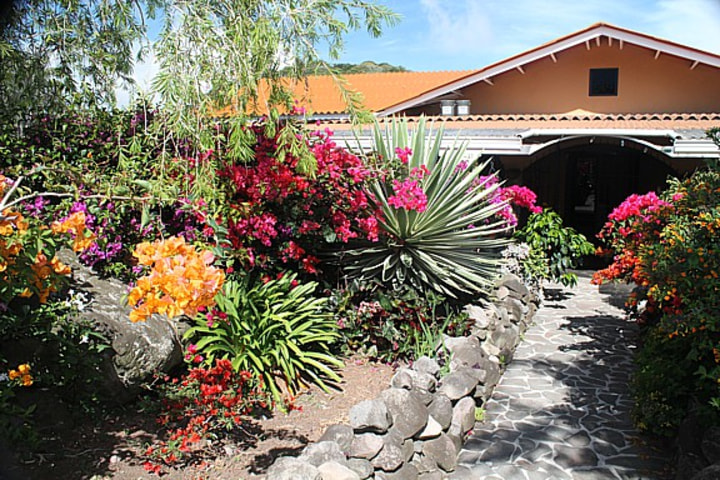 The Main house has been designed in a "New Mexico" or "Santa Fe" style. Open plan with arched windows and a stone fireplace. The home has a 2 car garage, laundry room, with Washer/dryer, 500 gallon water storage. On demand gas water heater.
The kitchen has a large island and comes with gas stove, Electric refrigerator and microwave.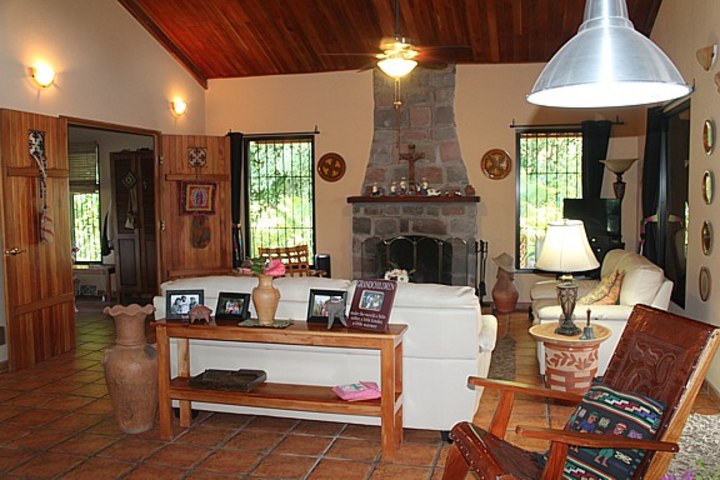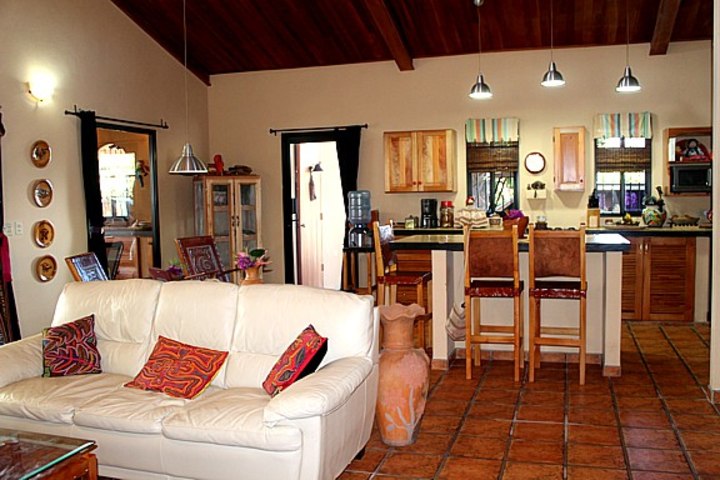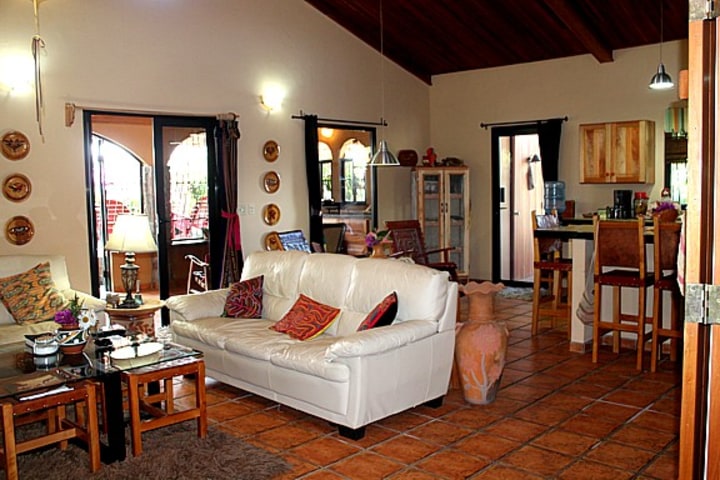 The living room opens onto the spacious bedroom with ceiling fan, walk-in closet and en-suite bathroom with large shower and vanity storage.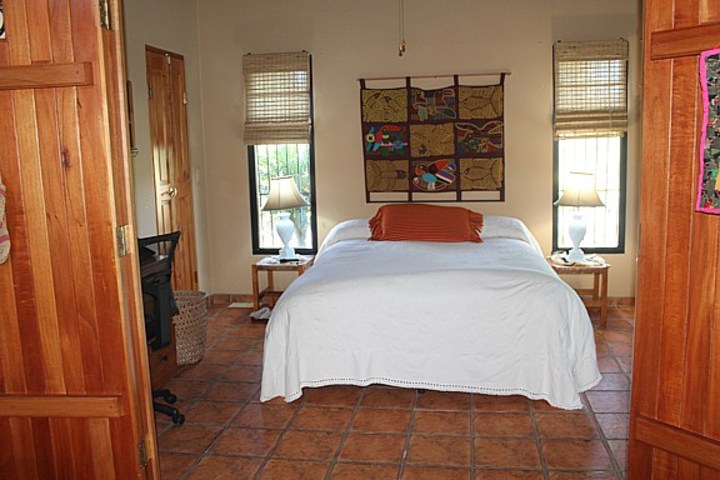 Stepping out from the living room you have a clear view through the beautifully flowered garden directly to Panama's highest mountain peak: the 11,400 foot Baru Volcano.
The patio has 2 burner barbecue stove with a sink and patio chairs. Ideal for entertaining.
The patio is enclosed with decorative wrought iron bars and so is totally secure. The owners report that they have never had a break – in.
In addition to the main house there is an attractive garden cottage or "casita." This is also open-plan with a ceiling fan, bathroom with on demand electric hot water. This is ideal as guest accommodation or has the potential for income producing B&B, or in the now popular AirB&b.
The casita is esthetically secured with wrought iron railings.
The garden have a seasonal stream running throughout that has been carefully landscaped around many Trees and even some cactus plants. These latter cactus plants give the garden its wonderful "Arizona desert" or "New Mexico" feelling.
HORSE LOVERS?
For horse lovers the farm has a 2 horse stable. A coral and a wash rack.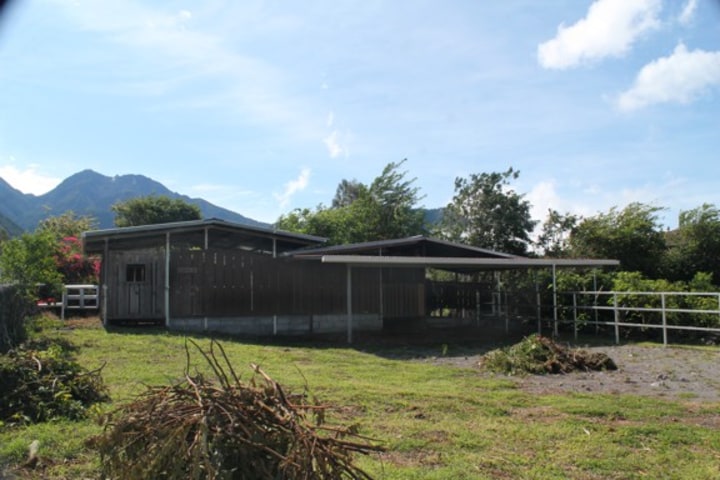 UTILITY COSTS:
Electricity: $30 a month
Water: $7.50 a month
INTERNET: $56 a month
SKY TV: $30 a month
Propane gas bottles (2 x 100lb) $68 each.
Small propane tanks: $5,50 each.
The property is clear titled and is in a foundation.
Entrance is from an unpaved country road via an automatic gate opener.
Immediately to your right is a potting shed and 2 "depositos" (storage rooms) for garden tools etc.
The driveway is covered with fine granite type gravel.
As you pass through the entrance you cannot fail to have your eyes drawn up to the magnificent mountain behind; This is Panama's highest mountain, the 11,400 foot Volcan Baru Volcano (don't worry it hasn't erupted since about 1450)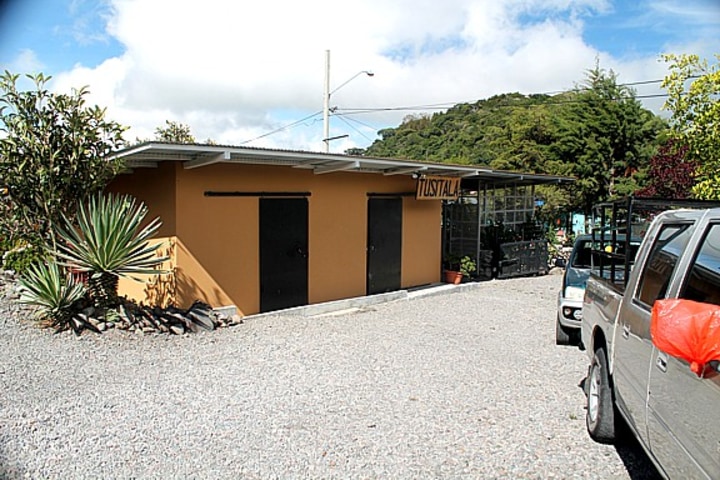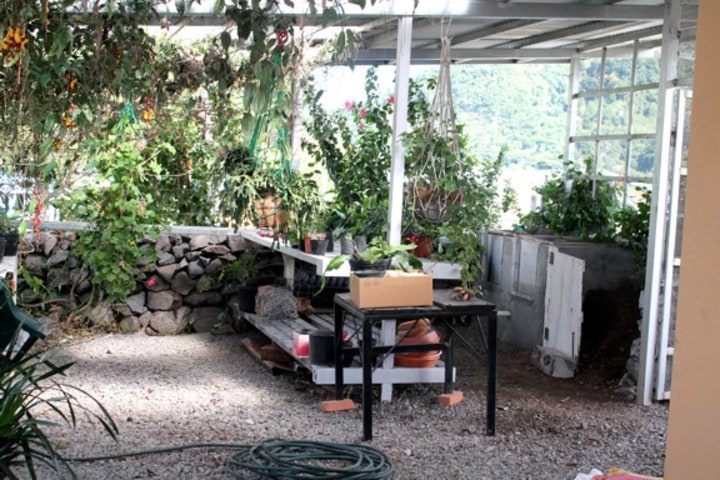 The owners have been growing and selling their own coffee for a number of years. This area of Panama has been growing the top specialty coffee and has won top prizes for the last 5 years. A neighbouring coffee grower reportedly sells their mountain grown coffee to the Japanese and even to STARBUCKS!
The house comes with a wonderful supply of this beverage and they even have an actual "Coffee table."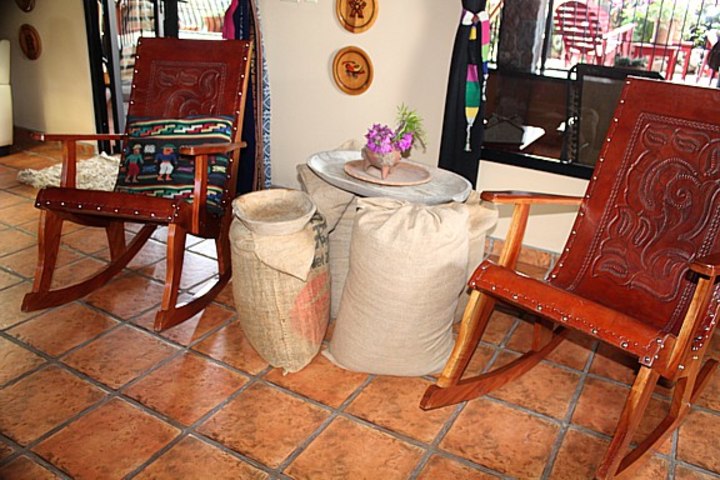 In the highlands of Panama there is no need for expensive air conditioning. The climate has been described as "Eternal Spring."
But, on those odd, cool rainy nights what could be more enjoyable than cuddling up, with a nice cup of coffee or glass of wine in front of a roaring wood fire?
The property was evaluated by CETSA at over $317,000