Panama, Luxury Mountain-view Villa in Garden Estate.
Located in Paso Ancho near Volcan.
There are fewer more perfect locations to live in this world than the highlands of Panama's Chiriqui Province. Writers have described the setting, with its steep pine tree covered slopes as the "Shangri-La of Central America". The similarities to the fabled literary world are many; At times you can drive down the mountainside and look down on the tops of clouds in the valleys below.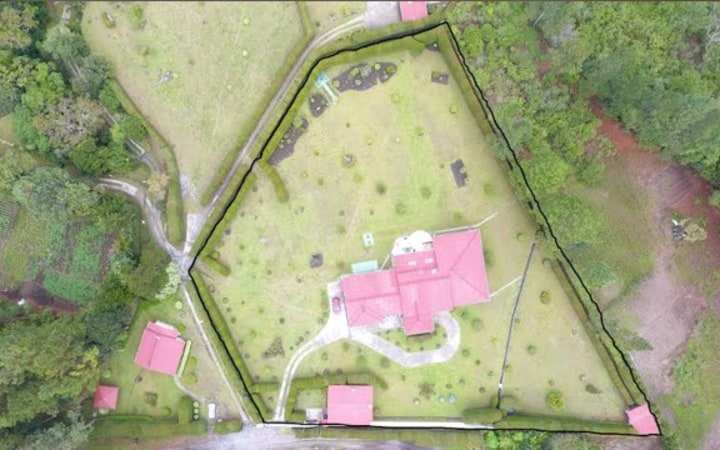 Above: aerial view of the LAS PLUMAS master Villa and the TANAGER guest house.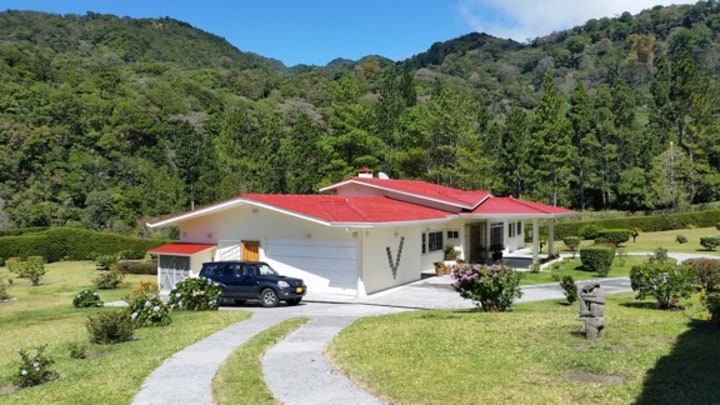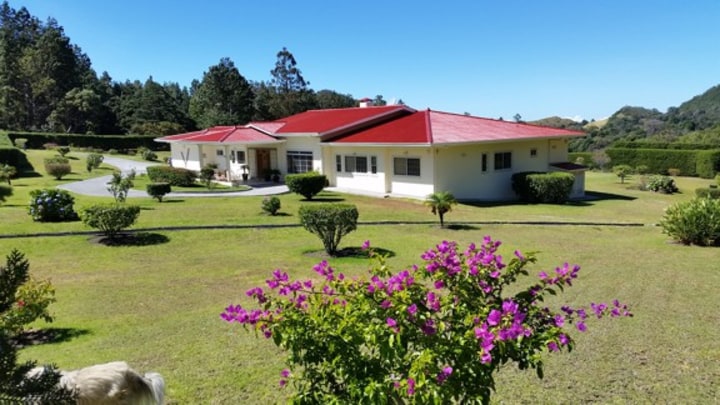 Picture in your mind, a wide flower filled garden that slopes down to a rushing, bubbling, trout bearing mountain river. The altitude is around 5,000 feet so in this tropical setting the air is fresh and pure. In the background you see the peak of the 11,400 foot Baru Mountain.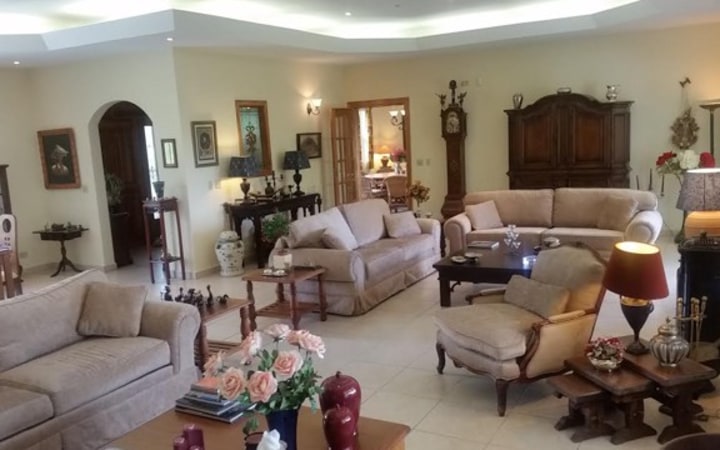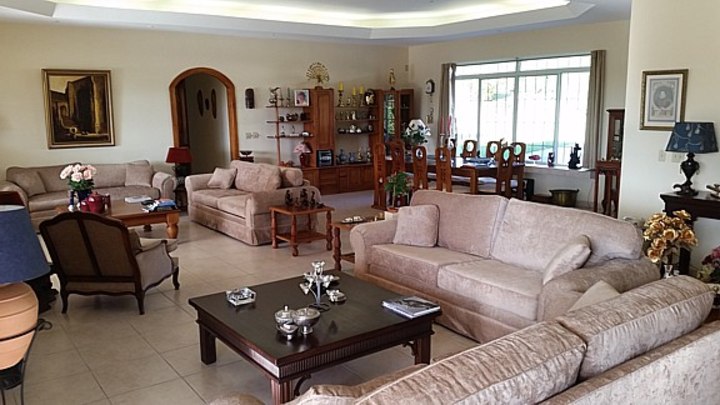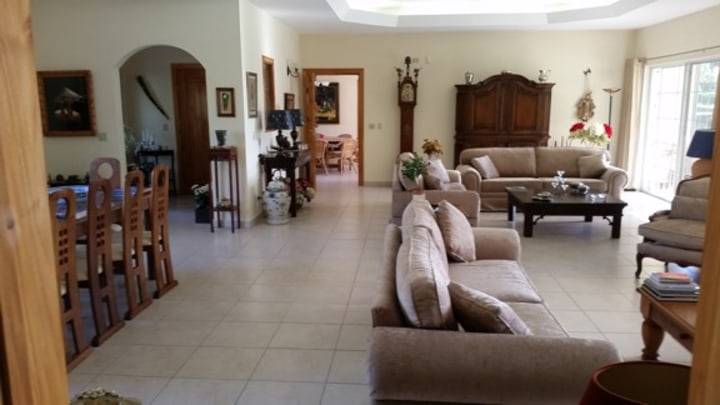 As you enter the Las Plumas master home, you cannot miss the elegance of the decor. The room is spacious with high cathedral ceilings. The furnishing have obviously been chosen with great care- all the way down to statuesque grandfather clock.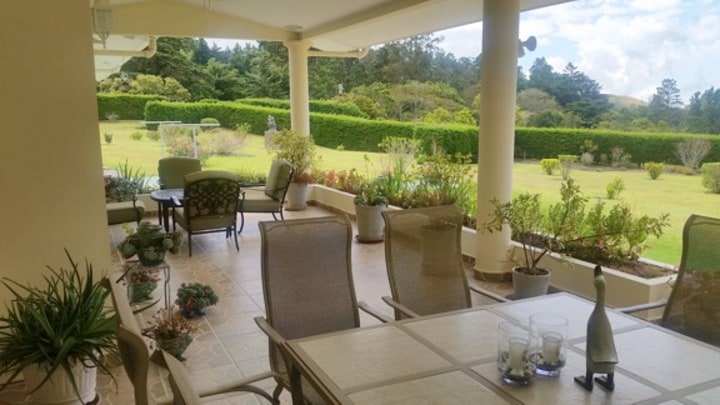 Pass through onto the spacious west facing patio. This is a perfect spot to sit with friends and a glass of wine and watch Volcan's famous sunsets.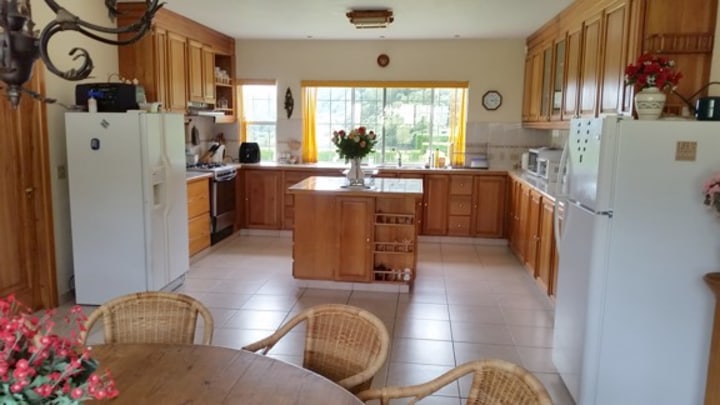 The kitchen and dining area are well appointed with two large refrigerators, microwave etc.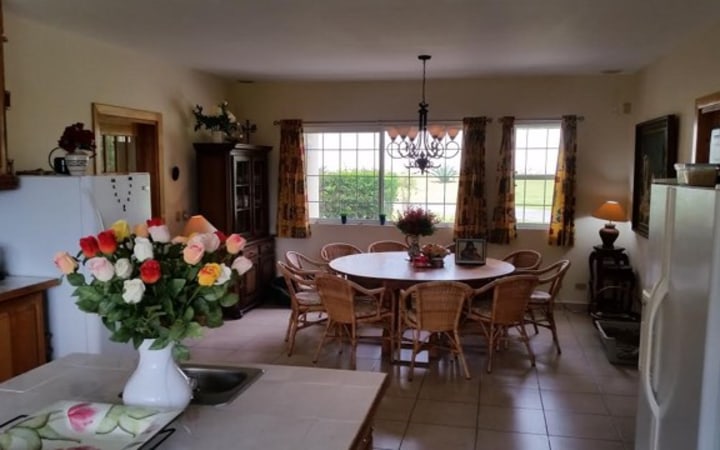 The dining table seats 9 persons.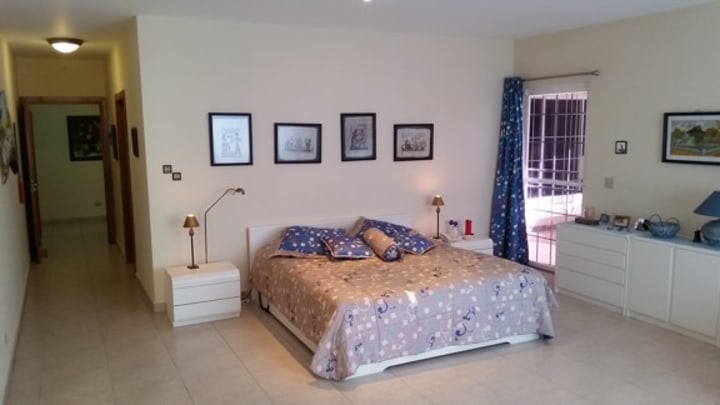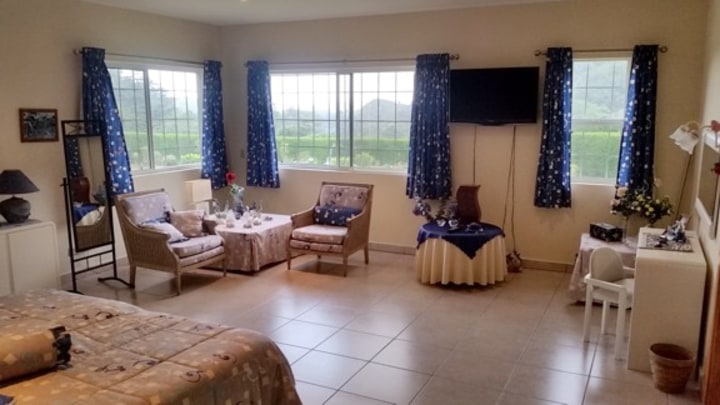 The master bedroom has been designed to allow lots of natural daylight and sunshine to flood in.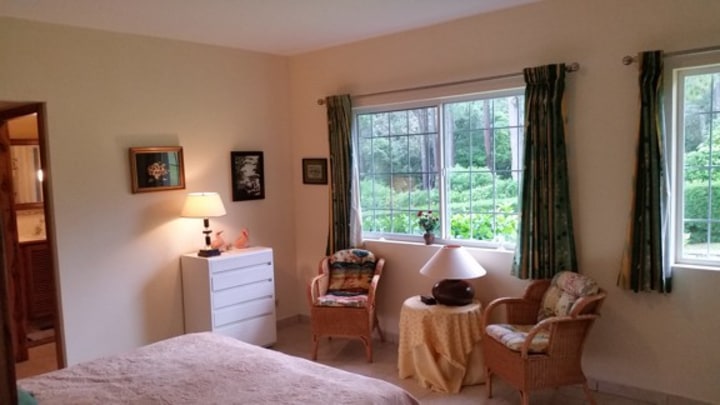 The spare bedroom is light and bright and with its own en-suite bathroom.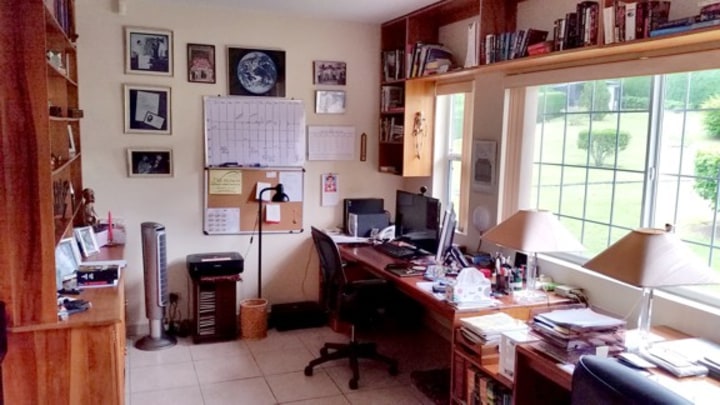 Where would a luxury home be without the obligatory office. The villa comes with high speed Internet and cable television hook up.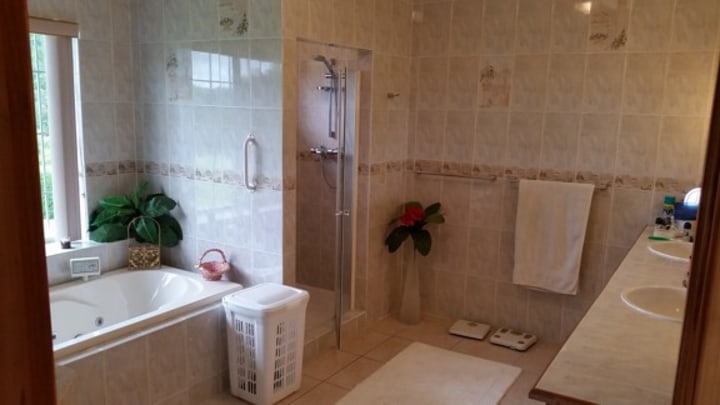 Bathrooms are elegantly designed with floor to ceiling tiles. There is a choice of a shower or a relaxing bathtub.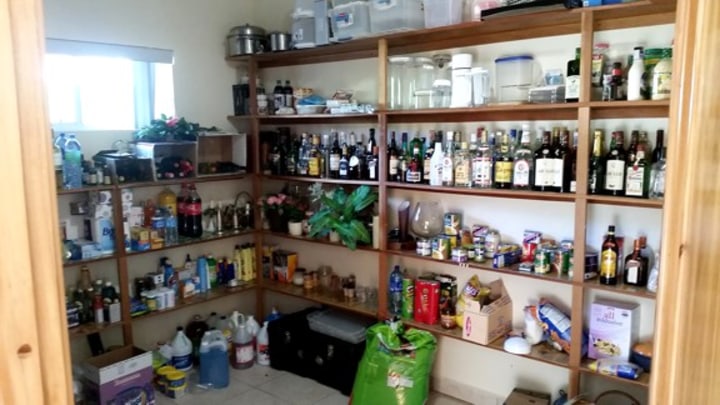 One aspect that a home cannot have TOO much of, and that is closet or storage space. Las Plumas has a spacious pantry.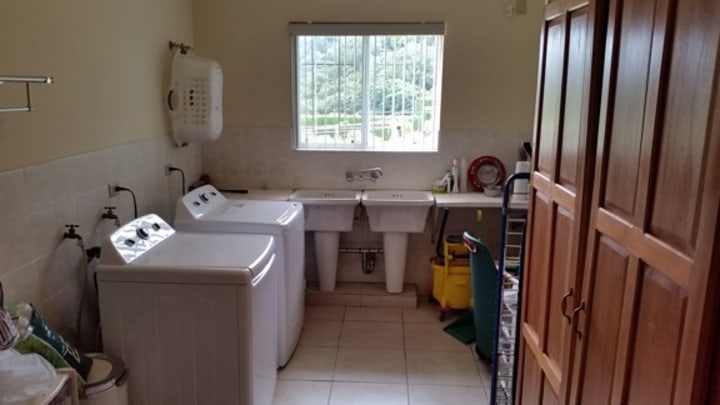 The Utility room has a washer, dryer, soaker tubs and storage closets.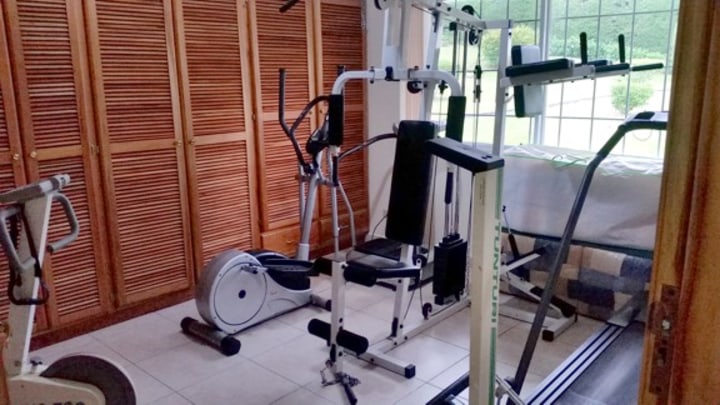 The well appointed exercise room has all the needed weight, cycling and running equipment.
GARDEN TOOL STORAGE. In the aerial picture, at the bottom right hand corner, is a separate building, the garden tool depository. This has ample room for lawn mowers, weed-eaters Etc.
Las Plumas, in a great European tradition, comes with its own separate guest cottage. All the homes in this garden estate have local bird names and the guest home is called "Tanager."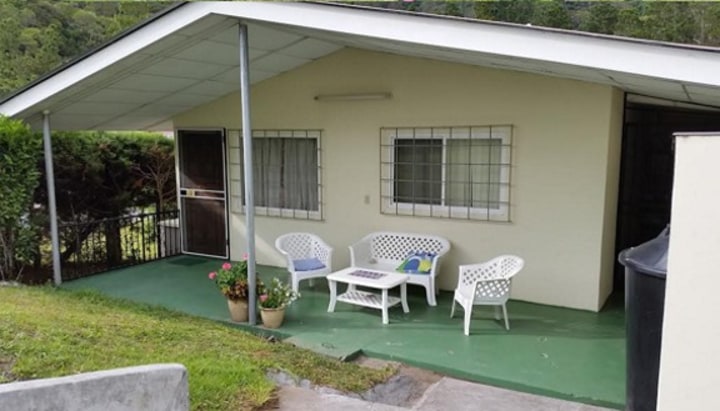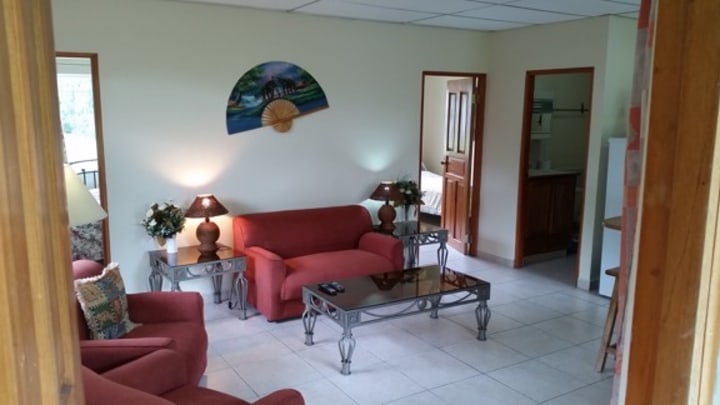 TANAGER, has 800 ft2 ; 70 m2, consisting of living room with open kitchen, 2 bedrooms, bathroom, laundry room and terrace and a large deposit for garden tools / potting shed.
Tanager, has its own garden just steps away from the covered patio.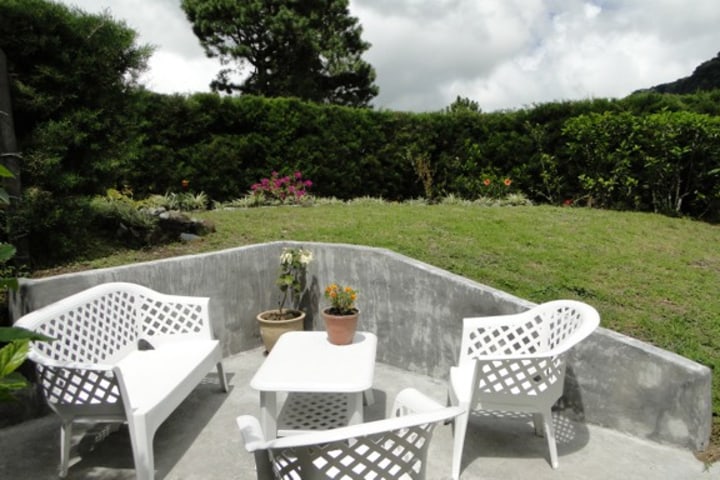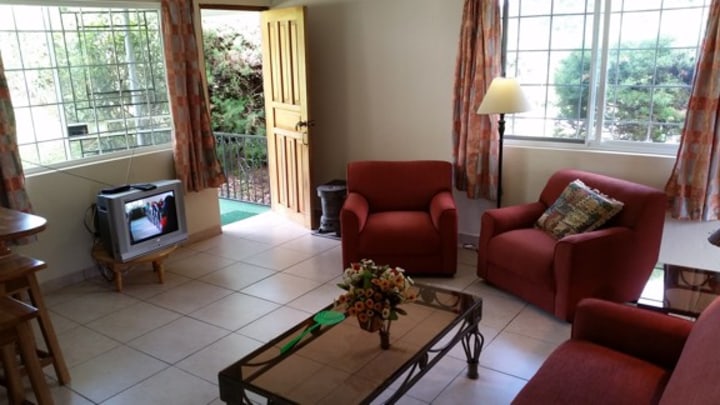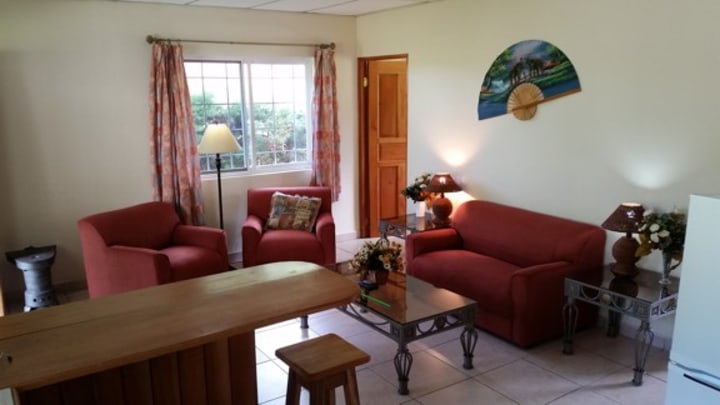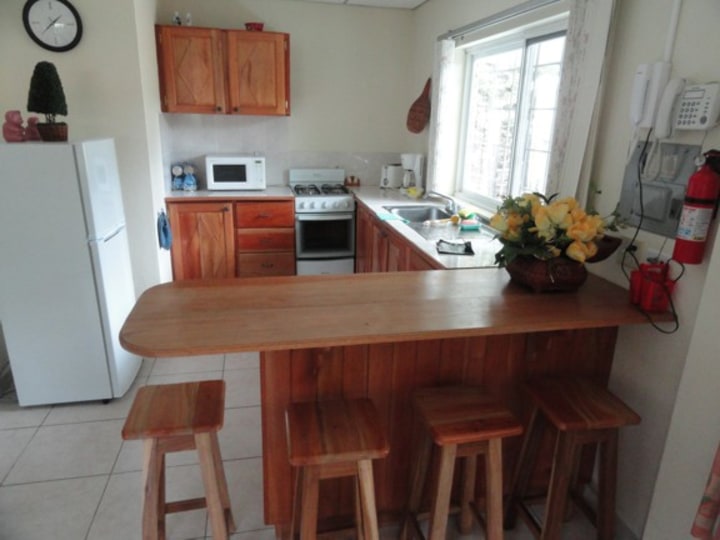 Tanager has a compact but fully functional kitchen. Ideal, as you would always want your in-laws or guests to have some measure of independence. Evening meals, no doubt would be enjoyed in the master home.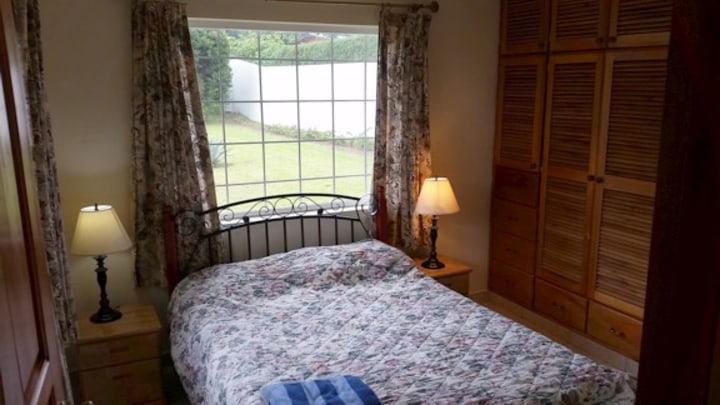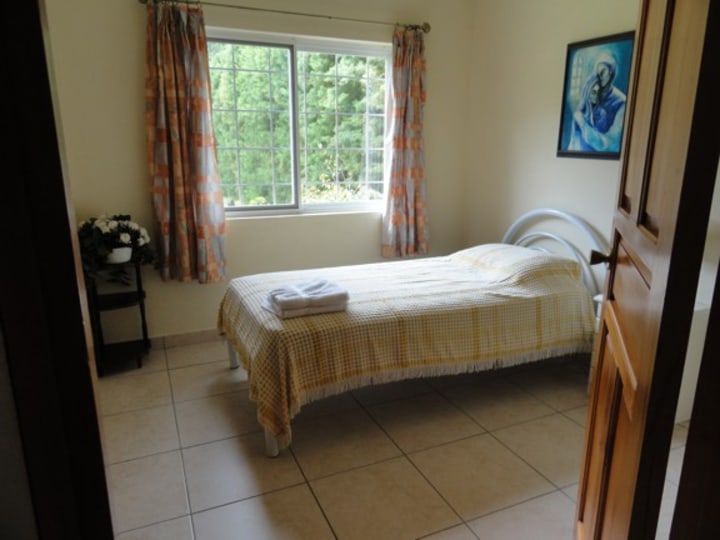 All the doors and furniture are made from local hardwood.
DETAILS of LAS PLUMAS.
Lot size: 90,775 ft2 ; (Metric) 7,993 m2
Home ca. 5,164 ft2 ; 480 m2
Construction year 2003 and based on high North American standards. (wheelchair accessible throughout the whole home)
Constructed by the well known local builder Antonio Bacil
Spacious living room, large kitchen, 3 bedrooms, 3.5 bathrooms, pantry, laundry room, garage for 2 cars, deposit, large terrace.
Approximate location coordinates: 8°49′N 82°37′W (las Plumas)
DRONE VIDEOS AVAILABLE.
Additionally available, via DropBox, the owner has made some exciting DRONE videos of the property. These are large files but can be sent to interested buyers upon request.
$ 785,000
Contact:
Name: Mr. Dirk Albert de Veer
Email: dadeveer@yahoo.com
Phone: (507) 6527-3848