Panama Highland Estate Home. The most beautiful house in the Highlands.
NEW REDUCED PRICE:
This is the most beautiful home available in the Volcan Highlands of Panama. The price is $425,900 USD. (negotiable)
This beautifully spacious, estate home is located in the pristine highland mountains of Western Panama, in the small mountain town of Volcan. Located on Calle 3 Norte (paved), directly across from the Nueva California School.
The floors are expensively tiled throughout. With high cathedral style ceilings.
There is a fireplace in the corner dating back to the original house. Why a fireplace in tropical Panama you may ask? Well, the elevation of Volcan is 4,500 feet. So the days are never too hot and the nights are wonderfully cool and fresh. You should never need expensive air conditioning but on those cool rainy nights … a warm and cosy fire is priceless!
There is a large island in the kitchen and the windows face out onto the landscaped garden (so even when you wash the dishes here - the views are breathtaking)
The landscaping in this home is exceptional. The owners tell me that they have a full time gardener and the local man is to be commended for doing an outstanding job. There are many different flowers throughout the gardens and occasionally your senses will be warmed by the sweet perfume from various exotic plants.
This is the location of the home. As you can see, you are close to all the conveniences including supermarkets, banks with ATM's and hardware stores. And one block south of your home is a first rate Spanish style coffee shop and bakery.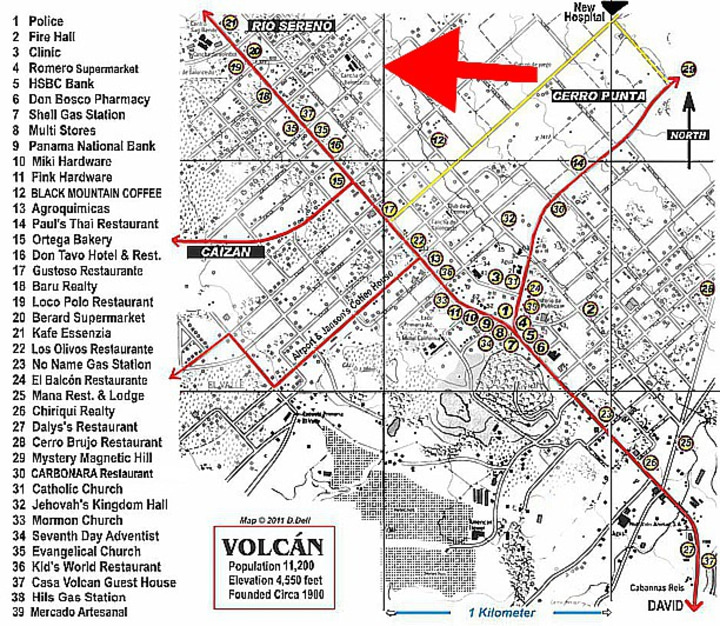 House details & legal description.
The house sits on 2 town lots, Finca # 13276 @ 1800 sq. meters & Finca # 21174 @ 1300 sq. meters, giving it approximately 3,100 (three thousand-one hundred) sq. meters of property. The fincas are beautifully landscaped. We have a 20 year (transferable) tax exemption for the house and properties.
The residence is a 2 (two) bedroom, 2 (two) bath. With a square meterage of 289 m2 or (3,111.0 sq. feet)
Attached car port is 37 m2 or (399 sq. feet)
Items that will stay with the house
Kitchen:
Side by side Refrigerator/ Freezer
Stove / Oven
Overhead hood range fan with light
Dishwasher
Floor model water cooler
Infared Charbroil BBQ and cover
Custom laurel wood built in pantry
Living Room:
75" wall T.V.
Custom cedar wood built bar and stools
2 Wine cooler fridges
overhead bottle and wine glass holder
custom built overhead lighting for the bar
Custom built cedar wood bookcase
Large sectional couch / includes chaise and recliner
Guest Bedroom:
35" wall T.V. / power bar
Custom cedar built spa bench
Bathroom shelving
Master Bedroom:
KING size BED FRAME (Mattress not included)
Night Tables (Laurel )
Custom built laurel wood closets
55" wall T.V.
Office desk with storage cabinet & office chair
Utility Room:
Washer / Dryer
Upright Freezer
Electric 65 gallon hot water tank and electrical timer
Two propane tanks
Water storage tank and pressure pump
All mounted ceiling fans

Security Cameras with base unit

All mounted wall lighting fixtures

All mounted window blinds