Panama Beach Living: (Yes I would love to live on the beach)
I suppose every red blooded dreamer or adventurer has at sometime had the fantasy of living on a tropical beach; White sand beaches, palm trees drooping down into the soft foaming waves, warm breezes blowing through your hair, early morning sun rising over the ocean, cup of coffee in your hand - Ok, Ok, you get the picture.
My wife and I had that dream nearly twenty years ago after a short filming trip to Roatan Island in Honduras. We returned to Canada, sold our condo and moved lock, stock barrel and miniature Schnauzer to Nicaragua. That was our first mistake - never burn your bridges or completely commit yourself to a new and radically different lifestyle without first experiencing it. Vacations in a luxury hotel do not count as an experience - living for six months or more, as a local, in rented accommodation does count. Then - and only then - should you sell everything in your home country and make your dream a reality.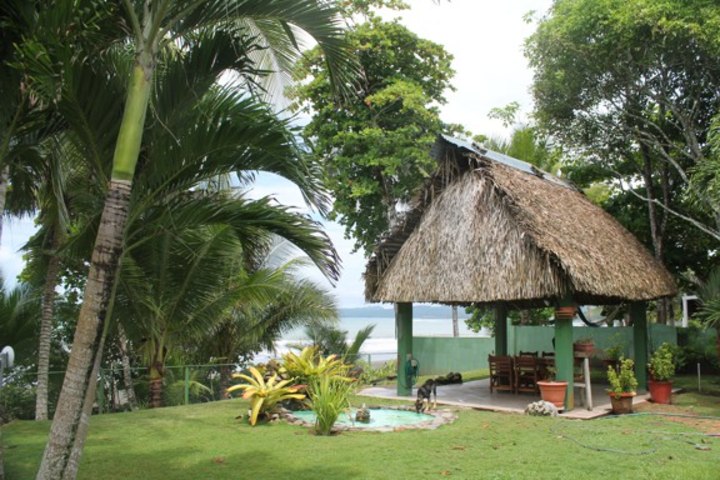 I am happy to say that if you are contemplating living the tropical beach life - I have a great clarifying solution for you. My long time friends Pat and Lewis Chase have started renting out some beach side cottages on the Pacific, in Corazon de Jesus, near the port city of Puerto Armuelles.
Here you can spend a month or more a stone's throw from the pounding surf, buying your local fruit, fresh fish and vegetables and see what life could be like - on a permanent basis.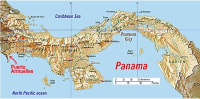 If you hate it- nothing lost just move back home. But if you love it- then you can start to look for your retirement dream home armed with accurate knowledge.
Pat and Louis are American expats. They are part of the hundred or so Expat community in Puerto Armuelles, a small fishing port on the western edge of Panama, nestled up to the Costa Rican border.
Most days you will find small fishing boats beached right in front of you. Amazingly, these fishermen can sell you fresh Tuna or Mahi Mahi, for the unbelievably low price of $1 a pound. Fresh fruit and vegetables can also be purchased from local vendors for almost embarasingly low prices.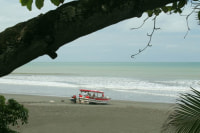 The accommodation they offer is very reasonably priced for long term stays. A three week stay will cost you just $400 US dollars. If you want to stay longer the rates can be mutually agreed.
The beaches here stretch for miles and at times you could be the only people on it. At night come and sit under their palm tree covered Bohio, sip on a beer or two and watch the twinkling lights of the nearby town.
I asked Pat Chase if she ever got tired of the ocean and she replied, "We are finally living the dream life." She went on to explain that many times people go on vacation and say "wouldn't it be wonderful to live like this all the time," Pat sipped from her large soft drink mug and indicated to the beach just steps away, "Well, you can live like this all the time."
A question my wife always asks people in these situations and that is, "What don't you like?" or "What is your biggest beef?"
Lewis Chase gave me the answer to that in one word; "Salt." He explained that beach living means battling constantly against rust, and salt corrosion. Computers etc. should be kept in a dry-preferably air-conditioned room.
Are the locals friendly? Yes, my travel writing experience extends to many parts of the world and a good slice of Latin America and I have found the Panamanians to be amongst the happiest and friendliest people on earth. They are very open and communicative - it is the culture to smile and greet everyone you see either on the street or when entering a restaurant. Yes, make eye contact and say "Buenas Dias" (good morning). This is not cold, hostile, suspicious North America, this is the warm friendly tropics so please adjust to this wonderful local tradition
The guest cottages are just across a sandy lane from their beach front home. Cable TV and Wi-Fi Internet are included and there is a large communal kitchen. You can walk to the beach in seconds through their garden.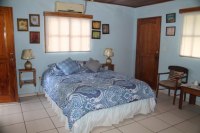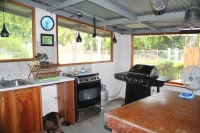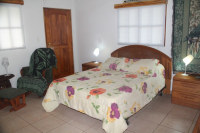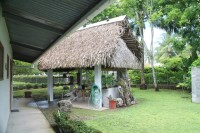 Here is a link for information on other beaches in Panama
https://www.alltherooms.com/blog/best-beaches-panama/
Pat and Louis are great hosts and fully expect their guests to have thousands of seemingly inane questions. They realise that this is part of finding out what beach life is truly about. So if your dreams are of living on a tropical beach- this would be a great place to start.
This is the website address for any further enquiries:
E-mail: chasebums@yahoo.com