Chiriqui's garden of delight orchid finca dracula
Nestled in the hills of Chiriqui's Shangri-La valley is a remarkable orchid farm. Rated among the top ten in the world, Finca Dracula's name is in stark contrast to the beauty that lies within. The "Dracula" in the name refers to a certain species of orchid that, like its infamous counterpart, sleeps during the day and then after dark, it opens and comes alive.
VISITORS to western Panama should take the time to make the scenic drive from Volcan. As you pass through the towns of Cerro Punta and Guadalupe off to your left you see rock monoliths thrusting out of the ancient volcanic peaks. It appears that every available meter of land on these steep slopes is dedicated to growing fruits and vegetables. This area of Panama is the food basket of the country – supplying somewhere between 80% to 90% of all the country's garden produce. Little wonder the climate here supports growing exotic orchids.
To reach Finca Dracula you drive through the town of Guadalupe and pass local landmark; Los Quetzales Lodge & Spa. Just beyond the inn take the first right turn – warning the road is rough, not suited to anything but a 4X4 vehicle. A few hundred meters more and then take the next left. There may be a sign at the junction with the name "Dracula" dripping blood (not literally). A hundred meters more over a small bridge and you enter the finca.(farm)
As you drive to the office you will see a small lake to your left. A good spot to stop and take some pictures. The lake is framed by tall palm trees and broad-leaved water plants, a waterfall gushes and disturbs the otherwise tranquil state of the lake. Outcroppings of bright red and orange impatiens add the essential touch of color to this placid setting.
Continuing around the bend you reach the office and greenhouses. On this day my guide was 21-year old, Mizael Rodriguez. Mizael told me that his boss Andrew Maduro first started the finca as a hobby nearly forty years ago.
Today, this 12 hectare garden produces 2,600 types of orchid and sells them all over the world. VISITORS, can buy orchids from as little as a few dollars for the common variety to $200 for the most expensive (Cochleopa Noezliana.) Mizael said you didn't have to come at night to see the Dracula orchids open. He gently dipped one, called Big Mamma, into a bucket of water. Sure enough, Big Mamma ominously raised her head to show her purple and yellow striped face.
Finca Dracula is a great place to explore as there are small trails and walkways throughout. Several friendly dogs will be more than keen to guide you as you wander the fieldstone ringed paths.
Mizael explained that orchids are grafted onto a host plant to grow. These are called epiphytes. This is different from the common variety we see on trees these are bromelias. In answer to my question Mizael confirmed that yes, bromeliads are parasites.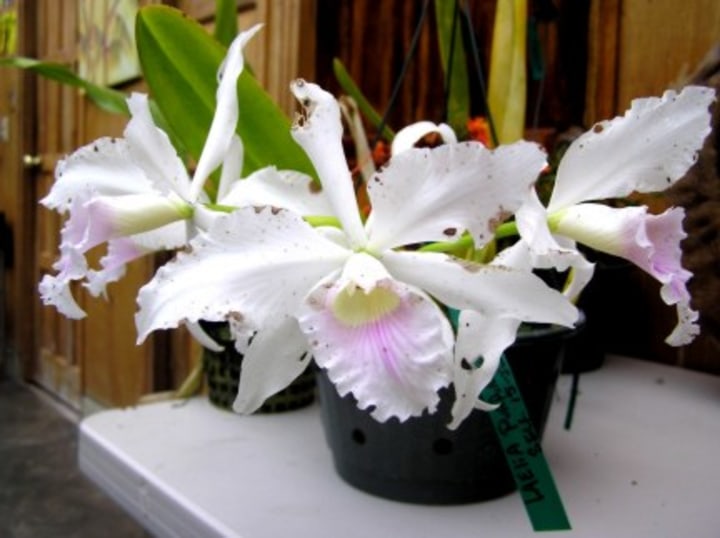 March and April are the best times of the year to visit, but even in the sometimes dreary days of July, the sun still shines and there are many wonderful exotic flowers to see and photograph. One large white orchid I found to be specially beautiful was called Iaelia Pupurata. When you visit, don't forget your camera. There will be more Kodak moments than you can click a shutter at.
Finca Dracula is open every day from 8 a.m. to 5 p.m.
Call: (507) 771-2070