Finca De La Suerte Las Lajas Tranquility.
Finca de la Suerte was built in 2018 by German ex-patriots, Andrea & Detlef Stötzer. It has four apartment-like accommodations 2 with single beds and 2 with a lounge and double bds.
It is 4 Kilometers south of the Pan American Highway at the San Felix junction.
(Directions are below)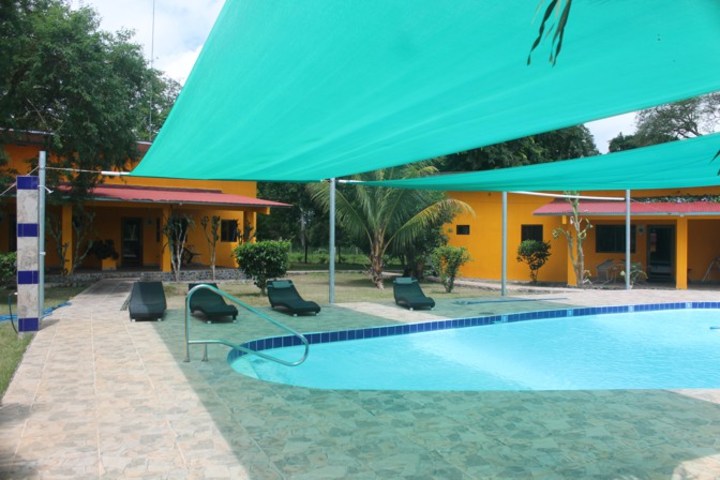 IT offers tranquility by the dreamload. If you are looking for a noisy, vibrant young people party place - then this is not for you. I would suggest going 10 kilometers further south to the beach area of Las Lajas. This place is wonderfully peaceful- no barking dogs, no crowing roosters. Just nature's wonderful tranquility.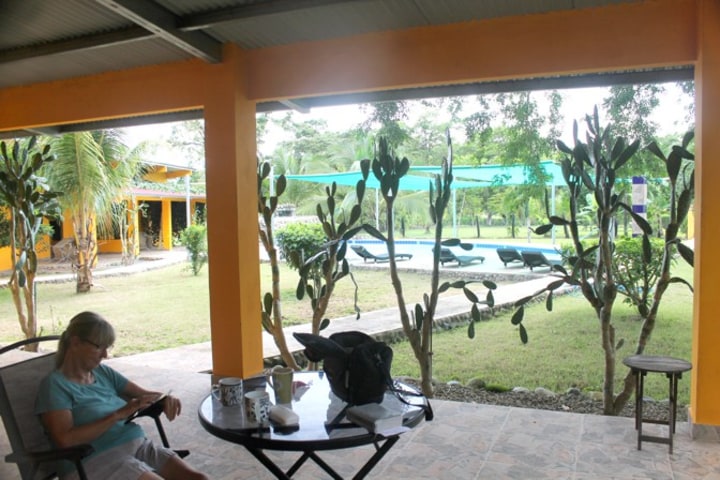 Each apartment has a large patio over looking the 12 metre pool. There is Wi-Fi and a small TV in each room. The rooms come with Fridge, 2 burner stove, coffee maker and toaster oven.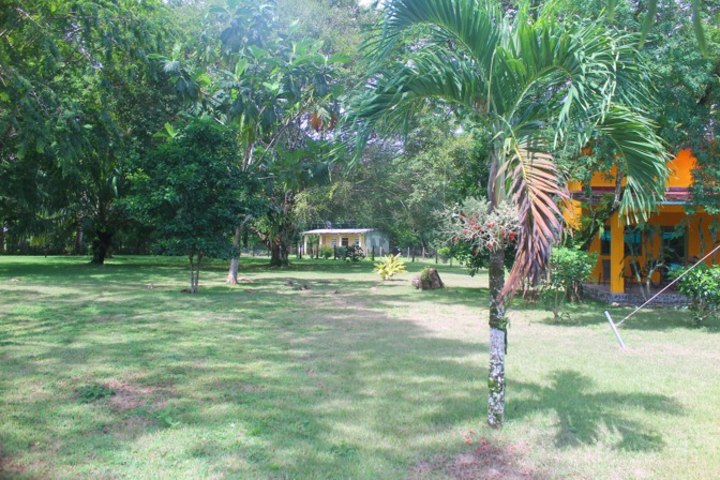 Pets are welcome, but first check with Andrea. Our small Schnauzer was most probably about the ideal size of a "Guest" animal.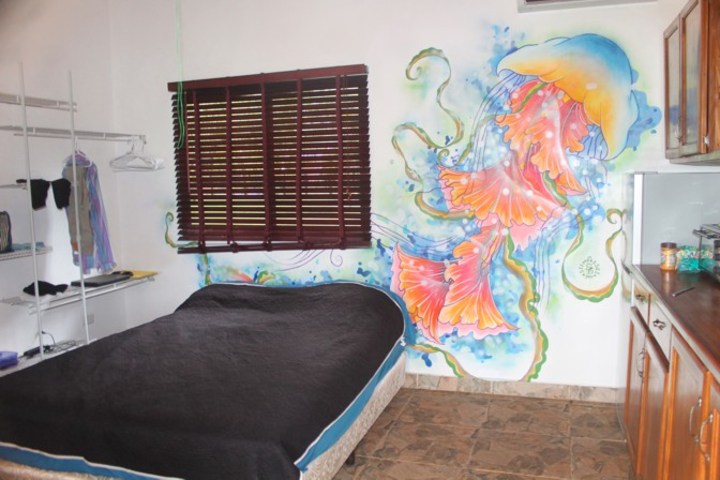 Each room has wonderful artwork on the walls. All done by local artist SEI.
SEI, hails from Venezuela. His artwork can be seen throughout Las Lajas.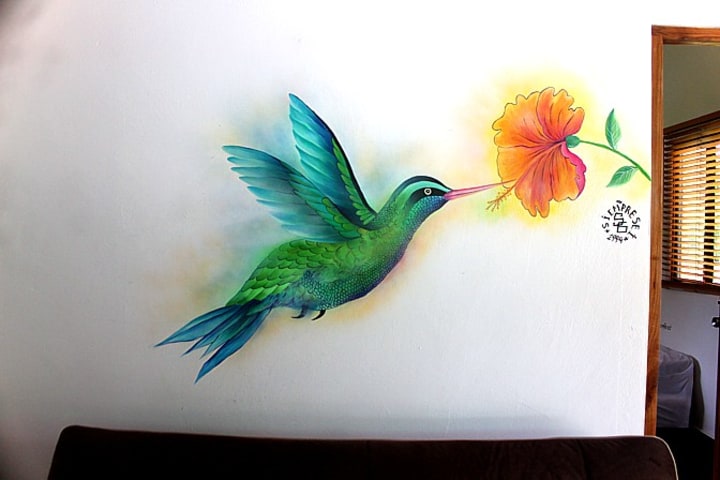 Above is the sitting room area of the 2 bed apartments.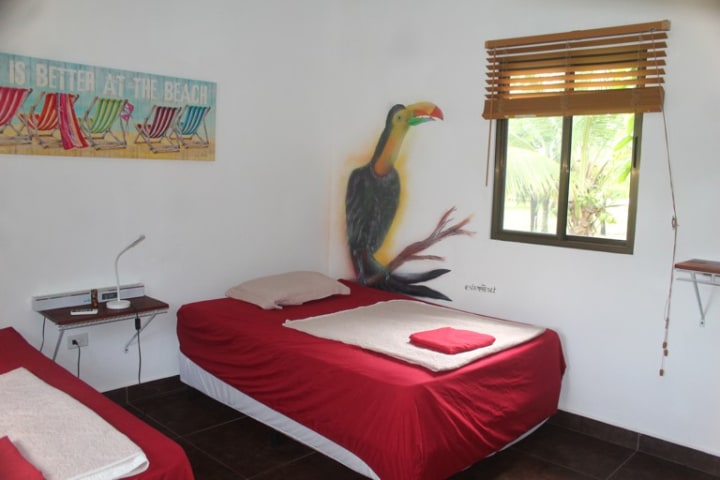 Despite having downloaded a Google map of the Finca, my wife and I managed to make at least three wrong turns. So as an aid to future guests here are some visual guides.
FIRST, after leaving the Pan American highway you are headed south for about 3 kilometers. You reach this right turn. Yes there is a sign but we missed it. So turn RIGHT.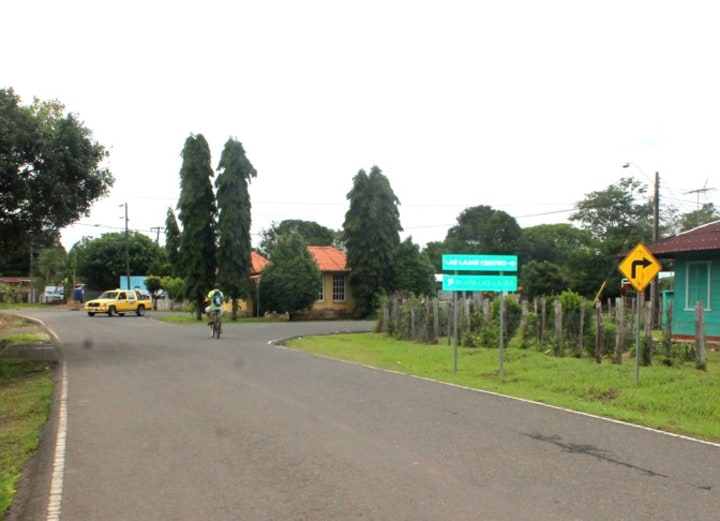 This next landmark is important for two reasons, one is that this is where you turn right again. The second is, this is where you could stop and buy your Milk, wine and beer. Great supermarket has just about everything.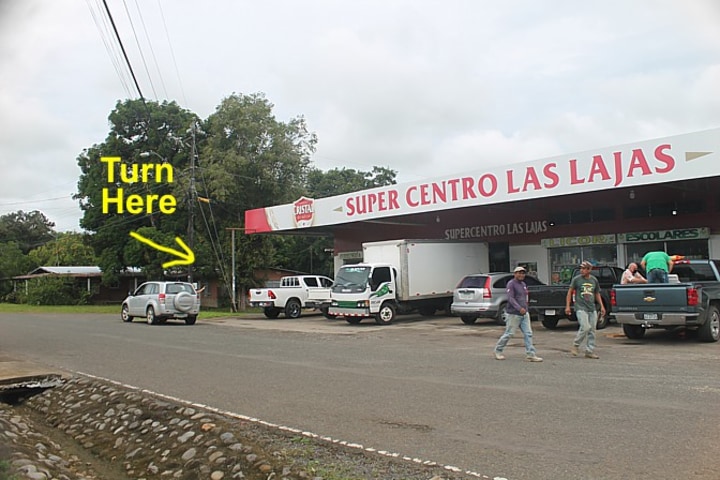 After traveling down this road for 1/2 a kilometer the road goes right but you have to turn LEFT (as indicated) The red bus shelter is easy to spot.
Then the Finca will be on your right after another 1/2 a kilometer.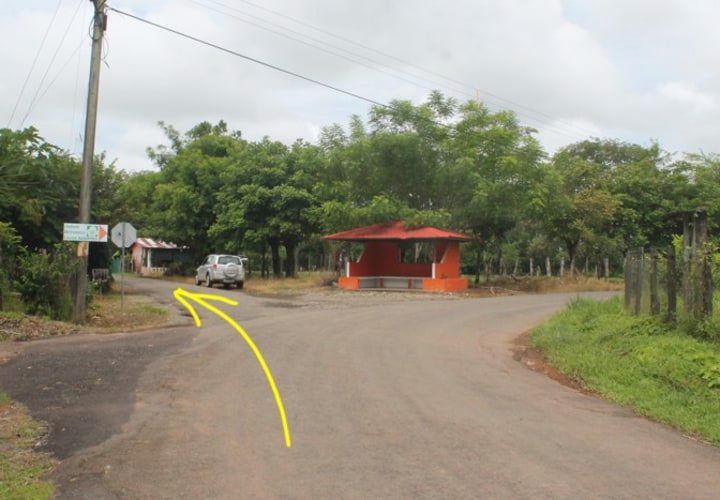 Finca de la Suerte does not have a restaurant, but fear not, food and ICE CREAM are very near. Just go back up to the supermarket, turn RIGHT and after a few hundred yards turn LEFT behind the main square and play ground. There you have a great little ice cream parlour, A Pizza place and restaurant.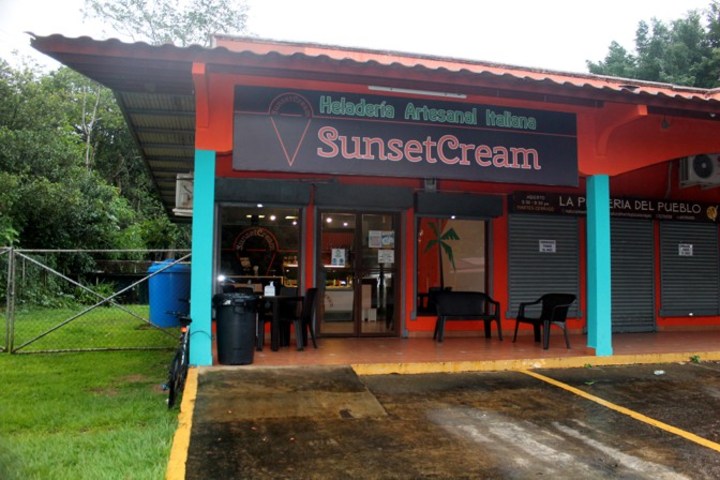 The ice cream display is one of the tastiest I have ever seen. And trust me, is was tasty!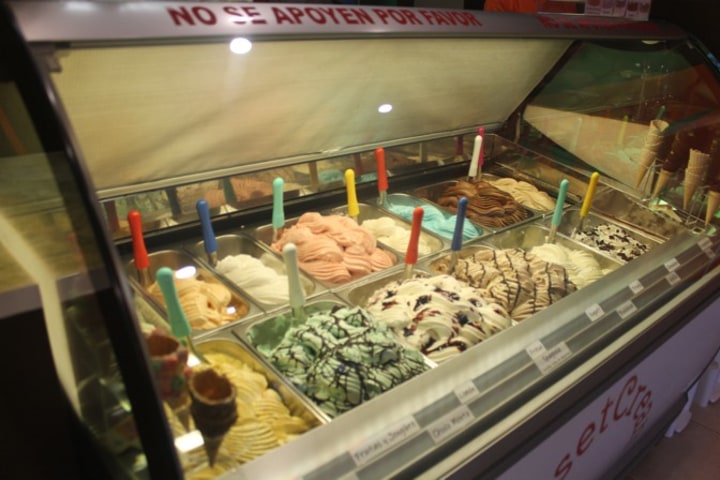 But wait there's more. 10 kilometers down the road there are even more places to eat and drink. The first place you will come to on your LEFT is FERNANDO'S. Although he calls it: Brisas y Sabores del Pacifico. Mention my name you might get a free drink.
David Dell
The rates at Finca de la Suerte are very reasonable.
Off season, $40 (Single bed) and $50 per night (double bed)
High season $50 (single bed) and $60 per night (double bed)
Contact e-mail:
+507 – 662 750 21.