Lalo's Tractor; A Lesson in Survival.
48 year old, José Alexander Samudio - better to his friends as "Lalo" lives in the Corazon de Jesus Barrio, east of Puerto Armuelles, In Panama. As a father and family man he struggles to feed his family and find employment. He is typical of many lower income Panamanians, any tools or equipment they have need to be kept working long after their normal life span; buying new or the latest model, is rarely an option.
I needed to do some welding on some steel patio doors and as my power supply wasn't enough, he offered to transport the doors to his workshop on a trailer behind his tractor.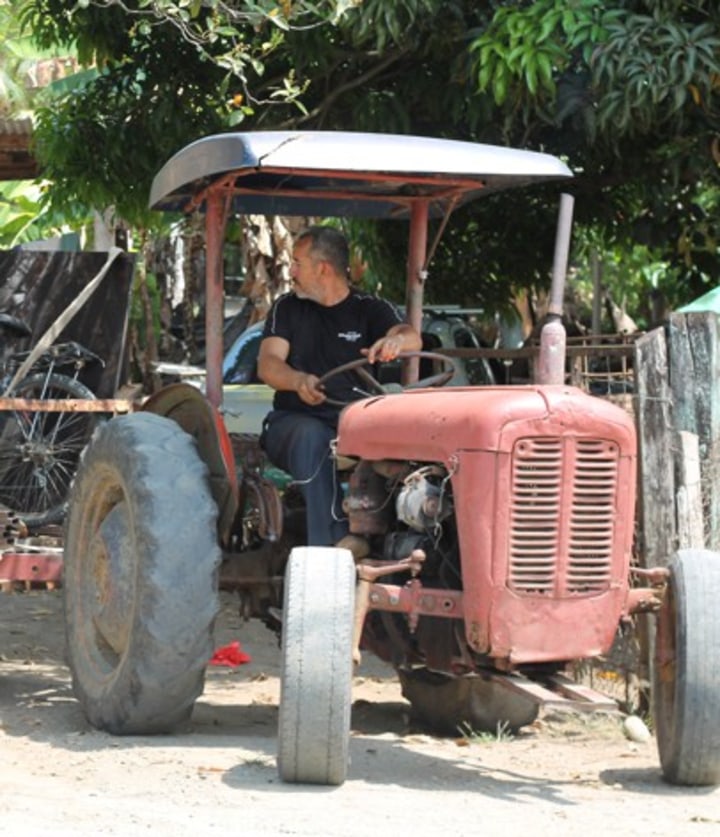 There was a problem; first I had to drive to his home in the barrio and give his tractor a pull start. I had some doubts if my Terrios could pull-start a 3,000 pound, 35 horsepower tractor. The doubts grew when on the first attempt – the towrope snapped in half. Not to be outdone Lalo produced a rather tattered piece of webbed strapping and attached it to the rear of my car. Again, the Terrios took the strain and dragged the tractor up the hot dusty road. Unbelievably, after some ten or so feet this old, and rusted MF35 Massey Ferguson tractor spluttered into life. With the towrope released, Terrios and tractor chugged off happily together.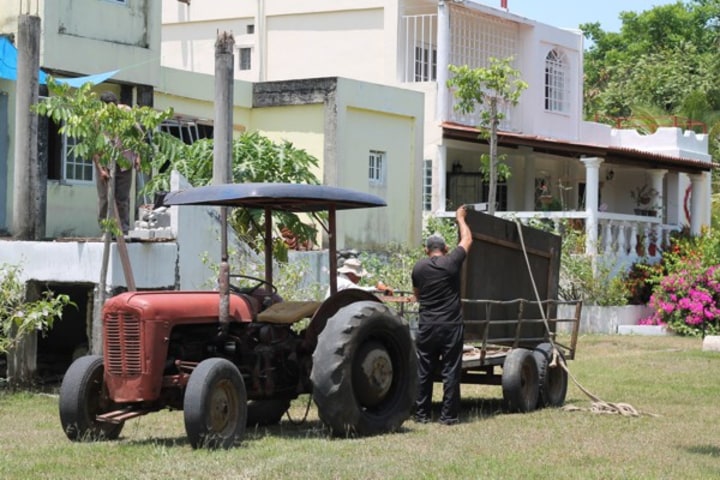 "Happiest People in the World."
On returning to Lalo's home, his smiling wife and children greeted us. This is not hype - After living here for nearly 14 years I think I have got to know the true nature of these people. In 2013 and again in 2014, Panama led the world in a Gallup poll for happiness. Why are Panamanians so happy? They are certainly not the richest, although they do have some of the best climactic conditions anywhere on the planet. In future letters I will describe the incredible Panamanian medical system. That could be one reason. They do have a fairly good social care system as well.
Having travelled extensively throughout Latin America I would say that Panamanians are the most contented and happy Latinos I have met. Panama is small in size and with a population of just over 3.5 million, they do not have the biggest tax base on which to run a country. So Panamanians have had to do a lot with very little- something they have managed to do - very well indeed.
Lalo quickly had my steel doors ready to weld and we started to discuss the tractor. He had bought this for $1,000 some 15 years before. Two of the large back tires has been repaired with nuts & bolts and rivets - not street legal but still functional.
"How old is this tractor," I asked? Without blinking an eye Lalo replied that it was at least 60 years old and still ran without any problems (let's not mention the starter motor). The Perkins diesel engine still puts out when needed and with bits and bobs, bailing wire and the odd whack with a hammer, this ex - Chiquita banana, tractor will continue to perform.
Neccessity: The Mother of Preservation.
My Panamanian friends do not have much money. Somehow, with great ingenuity they manage to keep everything from tractors, to trimmers to generators running long after their normal life. Another friend had an old weed-eater type grass cutter. He told me he has used his STIHL weed eater for ten years with no problem.
I asked, "Obviously you bought this new, how much did you pay for it?"
"Oh! its not new David, I bought it used ten years ago from the old Panama canal company."
Still another friend has an old MULTI-QUIP generator. He tried to get parts and discovered they had stopped making this model some 15 years before. Amazingly, the MULTI-QUIP people did manage to unearth a PDF of the service manual. So now this 30 -year old - still working – generator, will keep on, keeping on.
Letters from Panama, hopefully will give people a view of ordinary life here in Panama. Perhaps our wealthy, first world, so called civilized society could learn a lot from these simple happy people and from the lessons learned from a rusty sixty year old + tractor.
Perhaps, the Panamanian lack of materialism is the reason why they are so happy?
David Dell