Hooked on Panama Panama's newest fishing resort
Panama's newest fishing resort offers weekend vacations and fishing trips for residents of Chiriqui, and Volcan and Boquete. Found 13 miles south of Puerto Armuelles it features 11 Hawaiian style bungalows. A large restaurant, bar, swimming pool and soon, horse riding, kayaking, surf boarding and hiking.
46, year old Dan Peavey, partners this project with his brother Mike and boatbuilder's, Rex and Connie Hudson. Hooked on Panama has been two years in the making. The final pieces of landscaping are just being completed, then this little piece of heaven will be, one of Panama's leading fishing resorts. He did warn me the first impressions might not be that wonderful. They are still working on the employee housing and the access road, but when my wife and I turned the corner of the first guesthouse and looked across at the view and swimming pool – wow! What a difference.
To my right was a row of elegantly constructed cabanas. The manicured lawn was ringed with several varieties of brightly colored flowers. In the center was a decent sized swimming pool. A few steps to my left was the gentle crashing waves of the Pacific Ocean, the view to the sea was framed by a dozen or so tall swaying palm trees.
I turned to my wife and exclaimed, "They've done one heck of job of here, this is the closest to Hawaii I have seen in Panama." At the top of the path was the restaurant and bar. Dan Peavy saw me approaching and realized that after our long hot drive, refreshment was in order. "Would you like a cold beer David?"
Sitting on the restaurant's long veranda, cold Balboa in hand, sea breeze blowing through my hair, I realized that this was about as good as Panama, or life in general, could get. I strongly recommend that if the unavoidable stress and worry of life is getting to you – take a few days or weekend and kick back and unwind. This is one of the most perfect places you will find anywhere in this great country of Panama.
As the name implies, the resort is mainly for the fishing enthusiasts. They have three boats that can take you to some of the best fishing spots in the world. The newest addition to the fleet is the "La Chiricana." A 35 foot, full towered, twin Nanni dieseled, "Deep Sport" fishing boat. Built by Rex and Connie Hudson at their factory in nearby Puerto Armuelles. The La Chiricana can whisk you within an hour to Chiriqui's premier fishing locations of either the Paredes or Ladrones islands.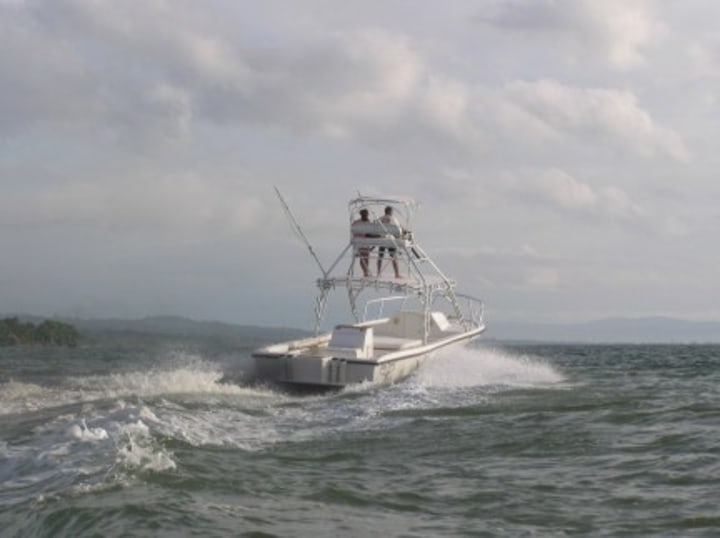 The bay of Chiriqui is a place for the true sport fishing enthusuiast. Yellow fin tuna, dorado, wahoo, amber jack are a commonplace catch. But the waters here offer the angler even more exotic excitement. The most ardent of deep-sea anglers start to salivate when there is mention of the prize of the oceans – blue and black marlin.
After a day's sport fishing you can relax in the swimming pool or enjoy a wonderful buffet prepared by chef Margot Arauz. Connie Hudson told me that she showed Margot how to make Mexican enchiladas. Connie laughed as she confessed that Margot now makes the enchiladas better than her. I must agree, the enchiladas were spicy and tasty and even the humble hamburger I had for lunch was cooked and presented better than in most 5 star hotels.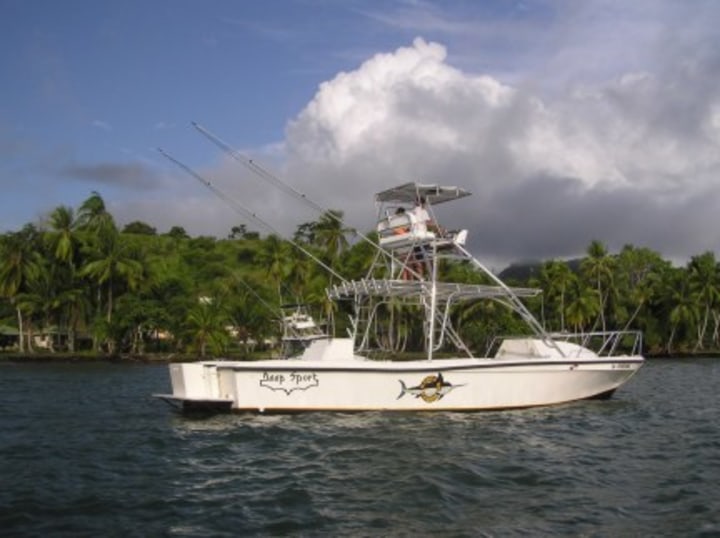 To reach "Hooked on Panama" drive through Puerto Armuelles to Petro Terminal Panama, don't worry you haven't taken a wrong turn, the guard at the PTP gate will give you a placard with a number. You then drive through the terminal and exit on the southern side. 10.5 kilometers later, after a pleasant drive on a wonderfully paved and quiet road you will see a green roof to your left, that's the resort. After you drive in, park your car and walk up to the bar/restaurant you will have magically been transported to Hawaii.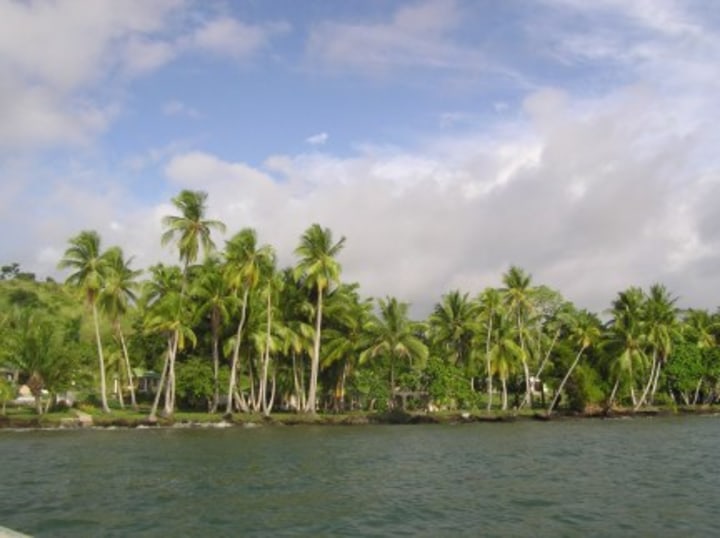 The cabanas are clean and roomy with air-conditioning, hot water showers and feature twin queen sized beds. The rates per night for locals and pensionados are a modest $70 a room. $20 a day gives you three buffet- style meals. Being lulled to a deep and pleasant sleep by the gentle pounding surf, beneath a star sparkled Pacific Ocean sky, is as they say, priceless.
Check out at hookedonpanama.com