Panama, Eternal Spring,
View Home.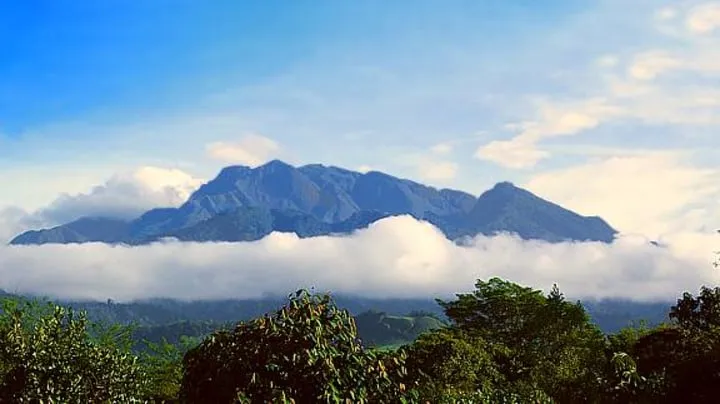 Panama, eternal spring, view home does have a million dollar view. With averages of 70-85 fahrenheit, you will enjoy year-round spring-like temperatures.
To the north you can see the cloud shrouded peaks of Panama's highest mountain- Volcan Baru. 25 miles to the south you can see the coastline and islands of the Pacific Ocean. Looking east you gaze down the Rio Bregue river valley. Nightime, as you sit on your patio porch, you will be enchanted by the twinkling lights of David City.
Idea for investment & retirement income.
Included in the price is one extra 2,000 square foot lot -fully titled. This could have a house or rental cabins built on it. Depending on style and construction, rentals in the Volcan area run from $500 to a $1,000 a month.
Of course you could just sell this lot and realise income immediately!
Panama's tourist figures have passed the one million mark.
Chiriqui is rich in attractions from the nearby Macho de Monte Canyon to Los Pozos Hot Springs. The Amistad park is a hot favourite for international bird watchers and tours can be arranged for active tourists to climb the nearby 11,400 foot Baru Volcano.
The fast growing town of Volcan is just 15 minutes drive away.
Volcan has 6 supermarkets, 3 banks, 4 hardware stores, 3 gas stations and over 30 places to eat.
The home is conveniently located in the centre of Chiriqui's fast growing tourist area.
David city with its first world medical facilities, shopping and international airport is just a 45 minute drive. The beaches at Las Olas are a one hour drive. Boquete is a 35 minute drive.
A camera does not do justice to this magnificent view down the Rio Bregue valley to Panama's Pacific Ocean. Birders will enjoy the many species of wild birds that can be seen- multi-coloured hummingbirds, yellow breasted tropical flycatchers, flame breasted tanagers, aracaries, to name but a few.
Remember, this is the highlands of Panama, land of "eternal Spring," no cold winter or hot summer here, so you may find you are spending the majority of your time enjoying the gentle breeze on your patio. This is the place to sip morning coffee-relax over a lunch- or sit under the tropic stars and watch the lights of David City.
The master bedroom faces south east and receives cooling nightime breezes. There are ceiling fans but at the elevation of 3,000 feet- there is no need for either air conditioning or heating.
The master bath room has a modern bathtub, tiled floor, granite counter top and lots of closet space.
THE DETAILS
The house is 5-years old. Well-maintained and painted 2011, inside and out, including roof and all iron work
The home comes completely furnished.
The features are:
Stainless steel appliances, including dishwasher.
Granite counter tops in kitchen and bathrooms.
Large refrigerator.
Satellite television system.
Security lights.
300 gallon water system with ultra Violet filtration.
Wired for Internet.
Entire house is surge protected.
House sits on titled lot with 15 year tax exemption.
Adjacent lot is also tax exempt.
Lots total approximately 3,500 sq.meters.
Adjacent lot ideal for guest casita.
Custom made doors, cabinets and closets.
9.5 foot ceilings and ceiling fans throughout.
One bedroom, two full bathrooms.
Front and back terraces.
Views from every window.
Dressing room with separate closet and shelves.
Large open floor plan.
Indoor laundry room.
Decorative security bars on doors and windows.
Custom pantry cabinet.
1,870 sq.feet under roof, including carport.
Steel "I" beam construction.
Orange, grapefruit, mango, avocado, banana, lime, eucalyptus, yuca and pineapple on lot.
If you are interested in the possibility of an easy, peaceful style of living in an extremely manageable house amid nature's breathtaking beauty, then contact us at:
$ 235,000
Contact:
Email: chiriqui456@gmail.com