Costa Rica deported Osama bin Laden twice in one day Costa Rica border Osama's office
Osama bin Laden was alive and relatively healthy at the border between Costa Rica and Panama when I saw him late in 2003. He was even used by the police as an occasional translator.
He lives in what is basically a squalid no-man's land stretching for three blocks either side of the border, and he boasts that he holds the world record for the number of deportations from deep inside Costa Rica: 19. Two of those were within the same day, a fact that embarrassed Panamanian authorities who were the butt of Costa Rican humor for some time for losing bin Laden so quickly.
His real name is Kenneth Vincent Icaza Fenwick. Piercing brown eyes, a straggly dark beard, unkempt hair, a thin haggard face combined with skin darkened by years of tropical sunlight – all provide a startling resemblance to the fugitive Osama bin Laden.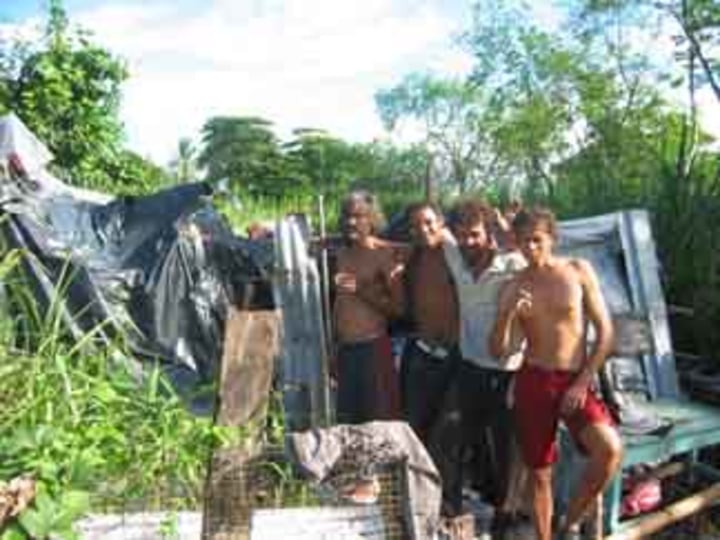 Home for bin Laden and friends is somewhere beneath this rubble, a mixture of garbage bags, scrap wood, corrugated iron and cardboard.
The 37-year-old introduces himself in impeccable English with the words: "I'm Kenneth and I will be your translator." To the tourist who yet speaks only a smattering of Spanish, the voice and the words come as a relief. Clear communication at last!
I had limped up to the border at Paso Canoas guided by a taxi driver who spoke no English. We had met 12 kilometres from the border after I had hit yet another teeth-rattling pothole that ripped an eight-centimetre gash in one of my tires and weakened another. A policeman and the taxi driver changed the ripped one for the toy spare.
Unbidden, the taxi driver (and his entire family, including his sick daughter whom he had just taken to the hospital) led me to the border despite there being just one road and it being impossible, even for me, to get lost.
Cost Rica closed
Kenneth took charge. "The Costa Rican side is closed, so you will have to stay here for the night." I groaned inwardly, remembering the previous night sleepless in my car in Peñas Blancas, entering Costa Rica from Nicaragua.
"But there's a hotel." You don't ask a wild-looking man in a well-worn yellow t-shirt and torn jeans how good the hotel is. Instead I asked what it cost. My $30 room was reasonably clean, equipped with TV, air conditioning and the typical single-faucet (cold) shower. There was also a fridge stocked with beer and pop, and a table holding vodka, rum, gin and glasses.
Kenneth and I shared some of the rum – for me a token celebration that Panama and the end of my journey lay on the other side of the narrow dusty street. Although I still had 500 km to go before reaching Panama City, there would be no more frontiers to spoil my days and to expose me to bands of street hustlers, most of whom it seemed would steal a glass eye if its owner so much as blinked.
Dreams of own business
Unlikely as it may seem today, Kenneth dreams of owning a travel agency of sorts – a proper business that will help tourists to find, see or buy whatever they need. "Do you believe it will happen?" I ask.
"Of course!" is his instant matter-of-fact reply. "I just have to clean up my act, trim the beard and get a place the stay."
He tells me he can get a place to stay for $1 a day. "And what will come crawling out of the woodwork?" I ask.
"The same thing that crawls out on the streets now!"
If you are at the Costa Rica/Panama border and need help of any sort, just ask for bin Laden. As far as I could tell, he is absolutely honest, and this information is also volunteered by local police. He has no set rates; he merely asks that patrons consider giving him a tip if they think him worthy.
He may prove to be one of your more enjoyable border crossing experiences.