Twin Waterfall Wonders of Chiriquí.
Above: The spectacular 60 foot high waterfall of the Quebrada Laja and less than a hundred feet away to the right of this picture is its twin: The waterfall of the Rio Gariche.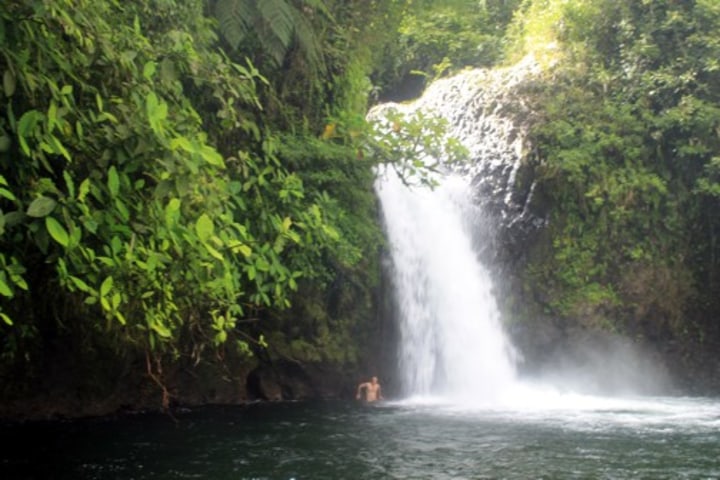 Chiriquí is a province full of natural wonders. Amazingly, many of these wonders are not to be found in any guide book - case in point, the twin waterfalls of Brazos De Gariche.
Volcan ex-pat, Phil Huebner is an intrepid discoverer of non-guide book wonders, and it was he that took me to see these cascading columns deep in the Chiriquí jungle. The location is about 6 kilometers due West of Cuesta De Piedra and an hours rugged hike south of the tiny hamlet of Brazos De Gariche.
Take the Caña Blanca road through El Valle out of Volcan and then the Southern fork to Brazos De Gariche. The road has been graded so even a domestic sedan should get you to Brazos De Gariche within half an hour. There the fun begins as you have to hike south for 20 minutes on a cow path before descending a 150 foot almost vertical path down to the Rio Gariche river. This is one of the two rivers that feed the twin waterfalls. Then you have to wade through the fast flowing river for a hundred yards and then climb up a steep bank. Here you will see the Gariche river as it surges through a narrow gorge.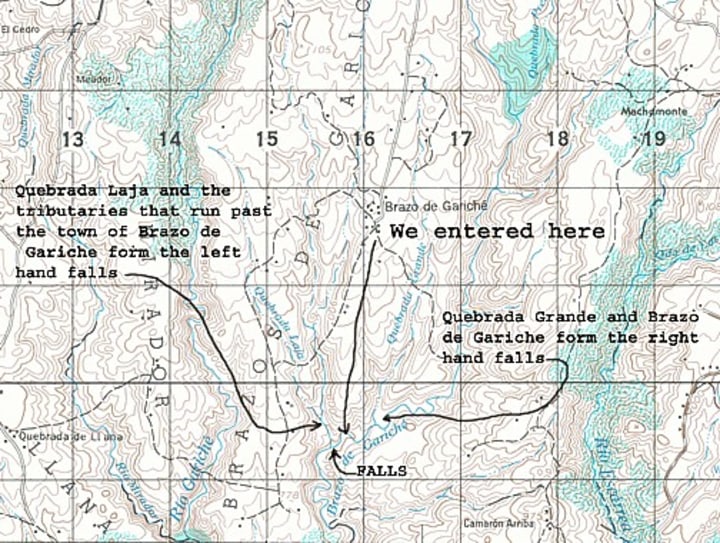 Climbing down the hill to the river's edge and a few hundred yards brings you into a spectacular double pool- to your left is the 80 foot high waterfall of the Quebrada Laja, to your right is the 60 foot high Rio Gariche waterfall. My companions took this opportunity to dive into the 100 foot wide pool.
If you are considering visiting or even living in Chiriqui, I can promise you a life filled with almost unending adventures. These waterfalls are a prime example- they are not listed in any guidebook or even on a map. This part of Chiriqui is rich in folklore tales of lost cities, Spanish treasure mines and lost gold-seeking explorers. I can't promise you a fortune in lost Spanish treasure. However, I can guarantee that if you are fit and well and up for a stiff hike - Chiriqui offers many extraordinary visual treasures.
A few caveats: never hike alone, dress appropriately and always consult a guide or local expert before exploring.