Business opportunity in Panama to make pots of money?
Just think what the country, or a region, needs. And sometimes, to do that, you need to go a little off the beaten path.
"Stop and smell the roses," goes the old saying, but there's more in that old cliché than just enjoying life.
Recently I took a trip to Panama's Azuero Peninsular. I wanted to check out the beaches and property along the eastern coast of the peninsular. I was not looking for a business opportunity in Panama.
Two hours west of Panama City
The Azuero is located about two hours' drive west of Panama City, or about four hours' east of Volcan. The peninsular is about 60 miles long and 45 miles wide. It is home to half a dozen forest and wildlife reserves and some of the best beaches on the mainland of Panama.
As you leave the Pan American highway and head south, the first town of any sort is La Arena. Enter the town, and on your right is a large brick and tile factory. There's your first clue – the town must have a good supply of clay.
I admit, my reason for stopping in the community was firstly for a bathroom break, and then for something cold to drink. I was not looking for a business opportunity in Panama. As I looked around for a friendly pulperia, I spotted some pots and ceramic ware on display in a small store.
Crossing the road, camera in hand, I noticed another ceramic store – and then another and, looking up and down the main street, there were dozens more. I later learned La Arena boasts over 50 such emporiums of the ceramic art.
My thoughts went back to the small Nicaraguan town of San Juan de Oriente. This was Nicaragua's Mecca of molded clay, and it proved to be a great business opportunity for a friend.
My friend exported container loads of pots to the US. He bought them directly from the potter for about $8 a piece and sold them for around $70. His freightage and packing was a little expensive but, as you can see, he did very nicely and found gold in the pot business.
So is there a chance that Panama holds the same promise? You bet! I'm sure there's a similar business opportunity in Panama.
To verify this, I went to the back of a nearby store where I saw a young man and woman working on their own business opportunity in Panama.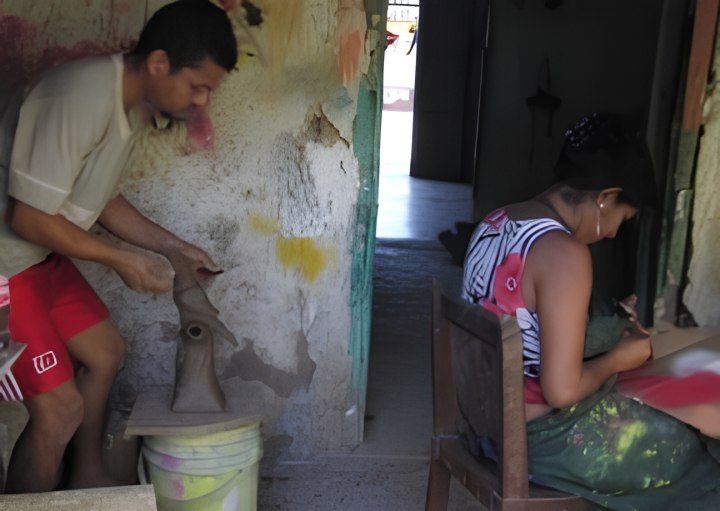 Bielka de Mendoza smiled as she looked up at me. She was hand painting a small, 8-inch pot. She had obviously done this many, many times.
I doubt if there was any great artistic satisfaction in her work – this was work to feed her family and herself. To her right a young man, Carlos Calderon, was working on a sculpture.
I asked if the government helped in any way with exporting their work. The look in Bielka's eyes said more than her words.
"Is this all for sale in Panama?" I asked. Bielka sighed as she said it was just for sale in Panama.
La Arena pots can be bought retail for as little as $4. They also make larger pots that beg to be decorated with dried flowers or some tasteful silk plants.
The quality is equal to any I have seen in my travels through Central America.
It's sad that these beautiful ceramic works seem to be undervalued and unappreciated. True, these are not priceless Ming vases, but art is such a subjective thing – one man's daubing can be another man's Picasso.
Potential for export almost unlimited
The potential for exporting the many ceramic works of art from La Arena is almost unlimited. The Panamanian government is helping exporters in other sectors of the economy so I feel they would bend over backwards to promote this as-yet undeveloped part of their economy.
If this does develop into a hot export business, both Bielka de Mendoza and Carlos Calderon and all the other hardworking potters of La Arena will see both a financial and an artistic reward for their talents.
Perhaps this is your business opportunity in Panama.