Boquete: Valley of flowers and eternal spring
---
Boquete or Volcan? In an effort to bring balance and to eliminate personal bias from this website's description of the two most frequently considered locations for ex-pat retirees, I asked Joseph A. Denham one question: Why Boquete? This is his answer.
---
Nestled in the green mountains of Chiriqui: quiet, unspoiled, uncrowded, with tumbling rivers and waterfalls.
The "Valley of Flowers and Eternal Spring", set like a bowl between mountains and hills.
The climate is ideal, spring-like weather all year, with reasonable daytime temperatures, cool breezes, and chilly nights. This is Boquete, where nature puts on a special light display almost every afternoon. The phenomenon, bajareque, is a fine mist along with north winds, a mist so fine is barely dampens the skin. These delicate drops of moisture are what allow glorious rainbows to appear over the town nearly every day.
Boquete is also lush green hills and great masses of red and purple flowers. This is coffee country, set in cloud forest surroundings, at an altitude of about 4,000 feet above sea level. The area encompasses Evenings are cool in Boquetealmost 500 square kilometers in which some 20,000 people live. Conditions have proven ideal for the production of high-grade Arabic coffee, and producers have received many international awards in recent years.
The scramble for property around the coffee town began in 2001, when Boquete was designated one of the world's top retirement havens. Since then, foreign residents have bought small farms (coffee wasn't doing too well for a while), which they subdivided into housing lots. Boquete land prices are as high as $80 a square meter today, compared with just $5 four years ago.
No one tracks the total number of Americans, Canadians and others here, but there are now more than 10 gated communities in the area. Together, they represent more than 1,000 new homes. This does not count the hundreds of farms that have been sold to ex-pats in the past few years.
Ex-pats bring wealth
About $250 million is expected to be invested in Boquete over the next five to 10 years as homes are constructed on this land and retirees come to live here permanently. The new residents are then projected to spend a further $30 million a year in the community. Economists calculate that construction alone during this period represents more than 31,000 jobs.
About one in five of the retirees coming to the community make further investments, mostly in businesses related to tourism. Already, a number of small hotels and restaurants have sprung up to serve the growing numbers of foreign and local residents.
Today, tourism brings less than $10 million into the area each year, a figure estimated from the number of hotel room stays and occupancy rates published by IPAT, the government tourism agency.
30,000 new families
It is estimated that 30,000 foreign couples will settle in Panama over the next decade.
Some may fear a large influx of foreigners into this small country. But this represents just 2% of the current Panamanian population of about 3 million.
Retirees are valuable to the economy of Panama. If 30,000 couples were to arrive over the next 10 years, and if we were to apply the same numbers that we are seeing in Boquete, Panama would receive about $7.5 billion in initial investment from retirees who would then go on to spend a further $180 million a year.
One million jobs
This activity would create nearly one million construction jobs. Couple this with additional investment from the retirees in tourism infrastructure, and it is easy to see why retirees are so welcome here. They come to visit, then to live, then to invest.
As a legacy of the 90-year presence of Americans in the Canal Zone, Panama has many English-speaking, American-trained doctors. Hospital care is on a par with that in the U.S. There are both public and private clinics in Boquete, a 24-hour clinic and laboratory, and four pharmacies.
A hospital is planned for Boquete, but there are two excellent private hospitals and two public hospitals in David, 25 minutes away. These are fully equipped for all emergencies and for treating 35 different medical specialties.
Garden of Panama
If you like cooking, finding the ingredients at the markets is simple and inexpensive; Chiriqui is the garden of Panama. There are also three supermarkets in Boquete, and a Price Costco will soon open. Two shopping malls are under construction. Most things are within easy reach of those living in Boquete.
There is easy access to Panama from the U.S., and direct flights to seven major cities. Two domestic airlines fly between Panama City and David, the closest city to Boquete, in about an hour.
Boquete: lush hills and varied scenery. Environmentalists, naturalists and others will find plenty to keep them occupied in Boquete. Adventures might include horseback riding, or hiking to the top of Volcan Baru, the majestic and long-dormant volcano from where, on a clear day, you can see the Pacific in one direction and the Caribbean in the other, one of the few places in the world where that is possible.
Birders might search for the elusive quetzal and its striking plumage, or take a canopy tour and see things from the perspective of the birds high in the trees. There are natural thermal wells, bathing in which is said to treat various ills. Tour a coffee plantation, where you will see Guaymies Indians in their colorful traditional costume harvesting the beans. The more adventurous might want to try river rafting. There are trips of varying difficulty, depending on experience.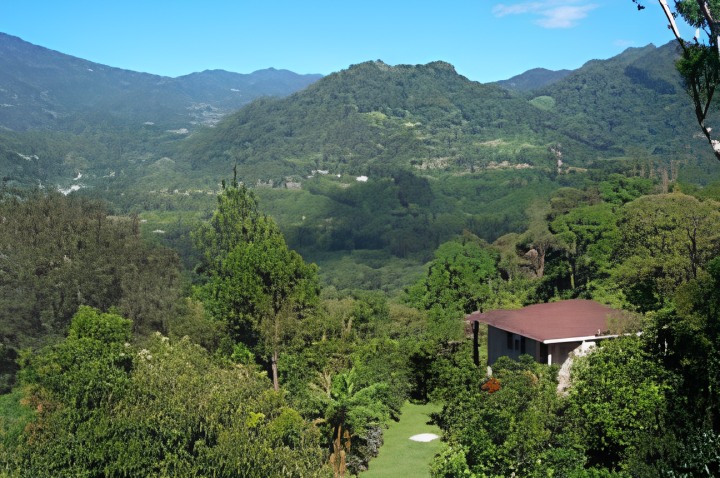 Walk the narrow streets
Only by walking through the picturesque narrow streets, visiting the Indian market, and stopping by a stall to drink hot chocolate while you admire the craftsmanship of the indigenous artisans, can you begin to appreciate Boquete. Take in the great variety of flowers, breathe that clear fresh air, and you understand that Boquete is the perfect place to live.
---
Joseph A. Denham is Sales Manager for Boquete #1 Realtors, a firm owned by a British ex-pat. He and his team are recommended by YourPanama to those interested in buying property anywhere in the province of Chiriqui.
---