Birding in Panama
New convert insists he's no geek
Birding in Panama, where there are more bird species than in all of North America put together (some 960 varieties), is big business. Don't tell my friends back in Canada and the U.S. that I said this, but it is also a lot of fun.
According to the 2000 census in the United States, almost one in eight of us are over the age of 65. The U.S. Census Bureau reckons the retiree population will grow by an astonishing 147% between 2000 and 2050. We are supposed to take it easy in these years, stop to smell the odd rose and, for some of us at least, commune with nature.
Birding in Panama attracts Americans
Nearly 60 million Americans are involved in some form of outdoor recreational activity. No cheapskates we, because in our various pursuits we shell out a not-too-shabby $40 billion. A chunk of that is spent on birding in Panama.
Just this week I ventured up the road from my retirement home in Volcan to the picturesque small village of Bambito. At the Cielito Sur guesthouse, I met Glenn Lee and his wife Janet.
Besides running this oasis of tranquility in the highlands of Chiriqui, they are both keen bird watchers.
Bird watching, or "birding" as most participants prefer to call it, is something most people don't understand – that is until they try it. Glenn's guesthouse at Bambito is a mile high and the air is fresh and clean. A small spring bubbles just feet away from the Cielito Sur's patio deck.
The deck is ringed with a myriad of hummingbird feeders and Glen claims to have seen at least 12 of Panama's reputed 55 species of these amazing and beautiful creatures. If you are a keen birder and want to see and photograph that Holy Grail of the feathered kind – the 3-foot-long resplendent Quetzal – then come to the Cielito Sur in mid- December and Glen will, I'm sure, take you to a place not far away where you can see possibly dozens of this rare and exotic creature.
The seduction begins
I still couldn't figure out what made birders tick, so Glen referred me to his friend, James Cone. James lives in a small community called Paso Ancho; just a few minutes' drive away. Glen and his wife Marianne welcomed my wife and me with a cup of their homegrown and freshly brewed coffee.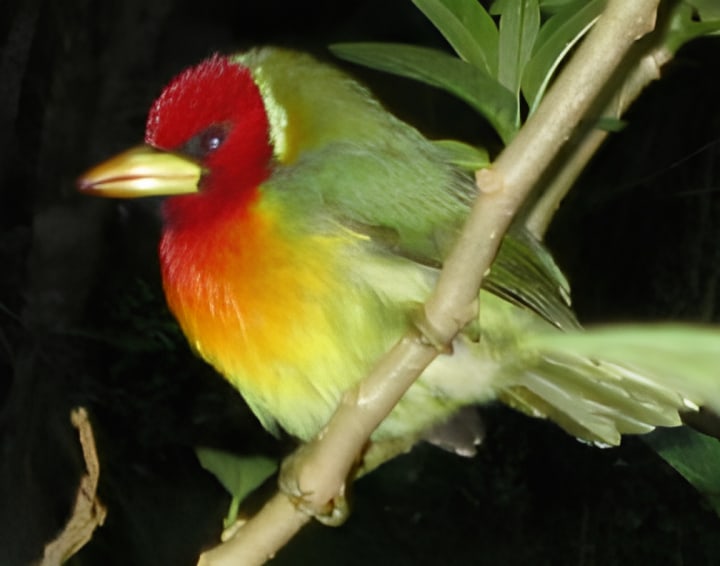 As we sat and chatted, James casually pointed to a rock wall in his garden. There, a flock of Grey and Blue Tanagers were devouring a pile of bananas. Marianne, quickly loaned me of a pair of 8x14, nitrogen-purged binoculars. "Wow these are terrific!" I exclaimed. Binocular technology had obviously come a long way since the clunky things I remembered in the military.
Marianne did her sales pitch and told me the binoculars were about $379 and came from a company called Eagle Optics in the U.S. Suddenly, this was a whole new world. I could see a clear, bright, close-up picture of an immaculately clean bird. His pale blue wing feathers perfectly contrasted with the pale gray of the rest of his body. So this was what birding in Panama was all about!
Backyard banana feast
As I was mentally recording the activity, the backyard banana feast was enriched with the addition of a bright red bird. Marianne, quick as a flash, identified the newcomer. "That's a Red Tanager." Soon several other birds of varying colors joined the party. There didn't seem to be any animosity between the varying species – each took their turn eating. Wow! I thought, if only the Arabs and Israelis could share bananas like this.
James Cone explained that birding isn't just a random stroll, observing the beauties of nature. Birders are the investigative journalists of the environment. Good birders take extensive notes on everything they see. They document the what, where, when, and how-many of nature's feathered kingdom. If some great unseen environmental disaster takes place on this Earth, the first reports will undoubtedly come because of the ever-watchful eyes of those who enjoy birding in Panama and around the world. Since meeting with Glen and James, I have identified a few other birds, including a Harpy Eagle. This is half the fun of birding in Panama – knowing and being able to tell others about the birds you have seen.
Quest for the Quetzal
In mid-December, I plan to venture high into the mountains with my newfound friends, Glenn and James, and film the beautiful and somewhat elusive Quetzal.
Folks at home, don't worry: I am not becoming a geek. I am, however, becoming aware that there is a whole world of exotic natural wonder out there that for 60 years I didn't know existed.
If want to become hooked on birding in Panama, contact Glenn Lee at Cielo Sur. E-mail: stay@cielitosur.com.