Affordable Mountain Estate, Panama.
Affordable Mountain Estate; Yes, those three words say it all. The, three acre (approx.) Finca Serena estate has been a feature of the Volcán, Paso Ancho area for many years. Originally constructed by an American to high North American standards. It is located inside the 34,659 acre, VOLCÁN BARÚ NATIONAL PARK. The property is about ten minutes drive from downtown Volcán.
This property is registered as "Rights of Possession" within the national park with the Panamanian Environmental Organization (ANAM). Important to note that these rights are transferrable.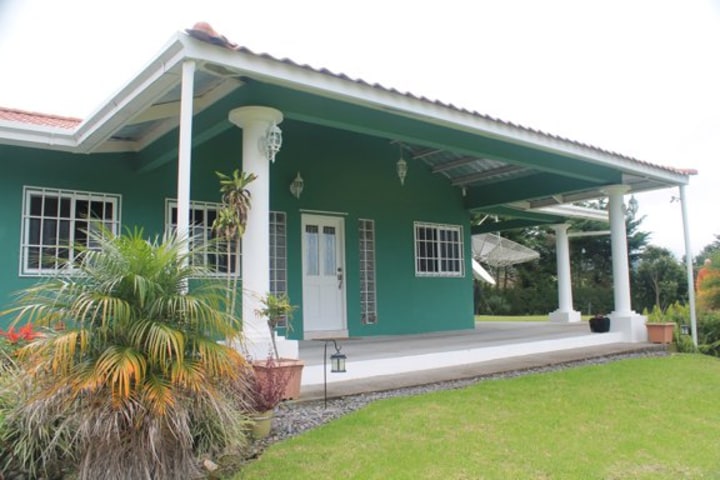 The asking price is $250,000. This includes an additional income producing casita and 3 acres (approx.) of beautiful landscaped property. The location at 5,000 feet above sea level, means you do not have blistering heat, rather you enjoy "eternal Spring." Your estate provides an abundance of fruits, berries and coffee.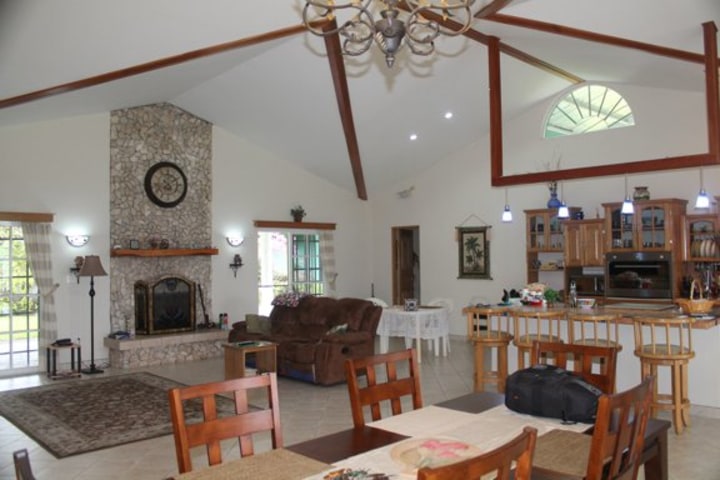 On entering the 2,600 square foot home you walk in to the 30 x 30 foot great room. To your right is island bar and oak cabinets. In front of you across the room are two patio doors that lead you out onto the covered back patio and stone walled garden.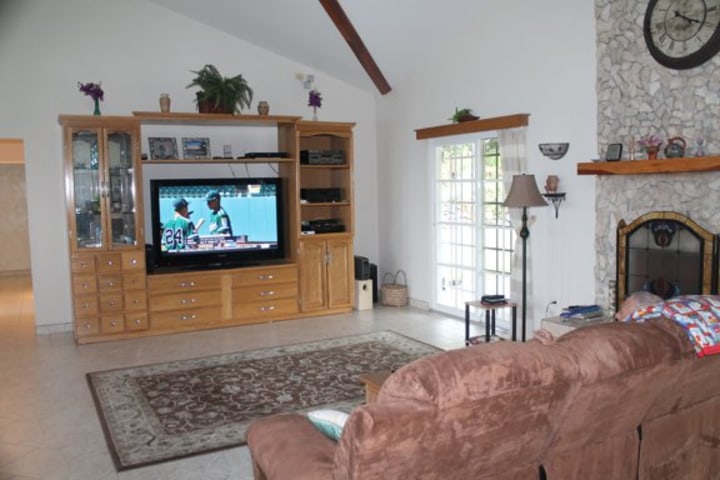 To your left is a huge 58" plasma television, with Blu-Ray player and Bose sound system, D-Link radio, satellite TV system and large dish antennas. All of these items are included in the sale of the home . In between the two patio doors is a gas or wood burning fire. Not absolutely necessary, but it provides a warming atmosphere for those inevitable rainy evenings. This area of Panama is known for its "eternal Spring" climate. Temperatures range from a daily low of 62 degrees F. to a high of around 82 degrees. Air conditioning is not needed.
How balmy is the climate here in the mountains of Panama? Just take a walk out of the front door of the main house and down into the beautifully landscaped garden. The year round variety of flowers and plants will amaze you. This property enjoys a wide variety of fruit trees, including, orange, grapefruit, peach, apple and tree tomato. You also have your own bananas and pineapples. Not least of nature's abundance here - yes, you have your very own coffee plants.
Writers have described this area as the Shangri-La Valley of Panama. It is something of a local joke, but true, if you place a plain wooden stick in the ground, soon it will start blossoming. Your garden not only feeds your visual senses, but your sweet tooth will just love the wide variety of berries, including strawberry, blackberry, raspberry and mulberry.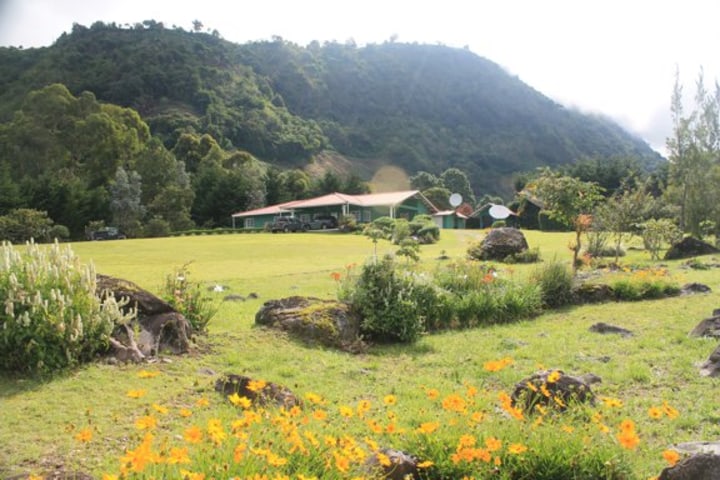 A few miles up the road is one of the world's, top ten, orchid growing farms. If you love flowers, then this is the place for you.
Take a left turn out of the main living room and the first room to the right is now used as a spacious office. To your left down the hallway is the second bedroom - complete with its own ensuite bathroom. At the end of the hallway in the right corner you enter the master bedroom, which holds a king-sized bed. Just inside the door you see the spacious walk-in closet. In the left corner of the hallway you enter a beautifully tiled master bathroom, complete with Jacuzzi tub, double sink, walk-in glass block shower and long marble vanity.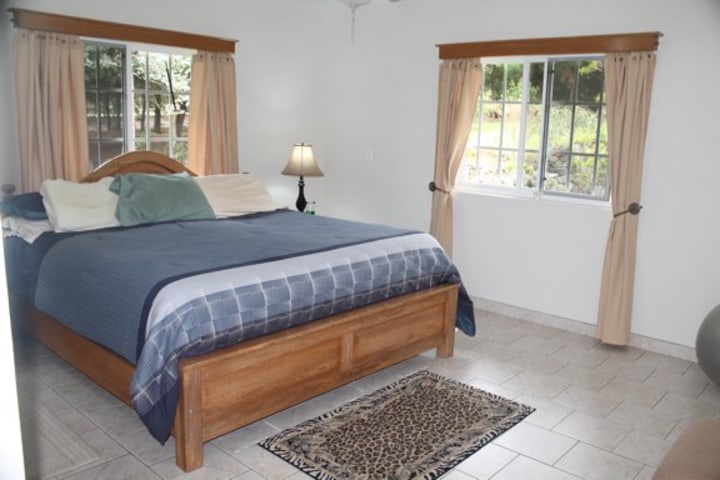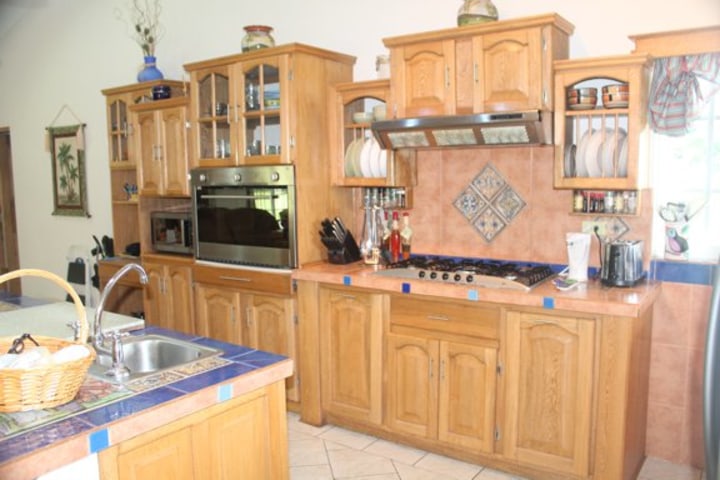 The kitchen, has all the modern conveniences you would expect in an American home. Gourmet kitchen with TEKA stovetop and oven. The large fridge has both ice and water dispenser on the door. There is a vegetable preparation sink.
The breakfast bar, has 4 stools and plenty of working space.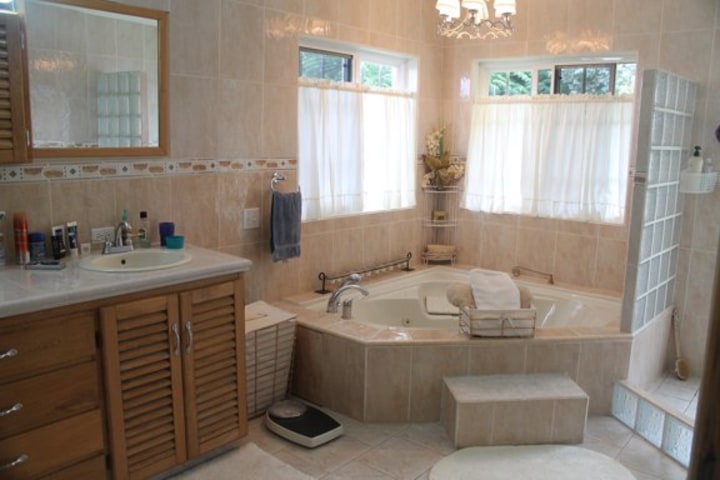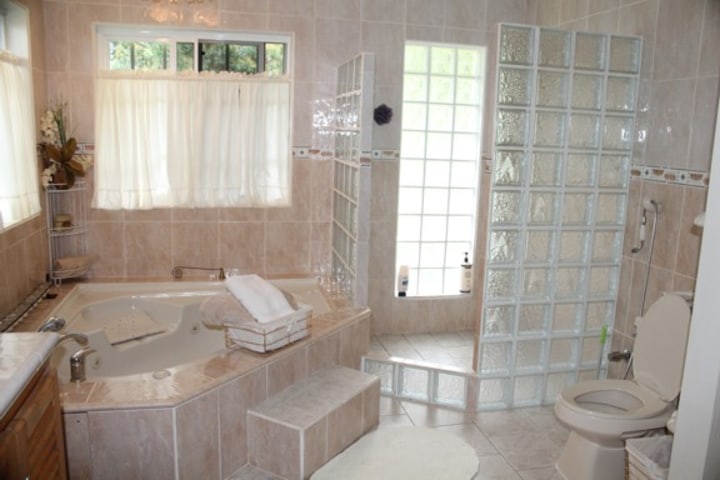 THE CASITA or GUEST COTTAGE.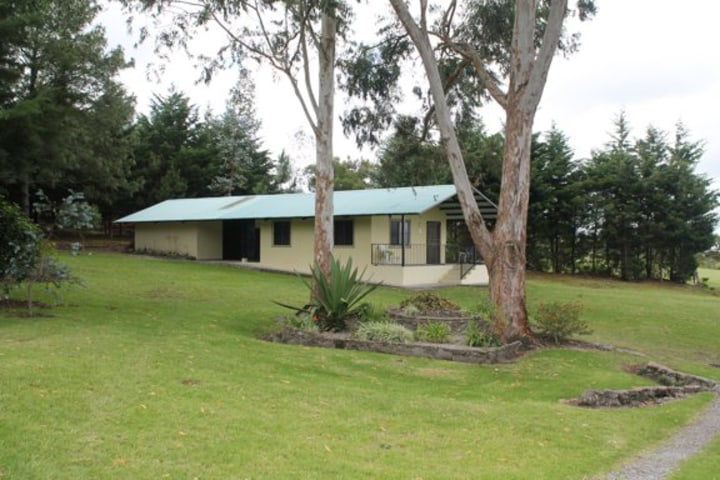 As you enter the property, to your left is a 600 sq. foot "casita." This income producing, fully furnished, one bed, one bath house currently rents for $350 per month.
The casita has its own electric meter, water storage tank, water line and has gas powered hot water throughout. In basic terms, the casita is a "stand alone" home that comes as part of the estate property.